With the Summer approaching us fast, it's time to sweep the patio, uncover the garden furniture and dust off the BBQ. However, creating a beautiful outdoor dining and entertaining space can be daunting especially if you're starting from scratch so here are our top tips and favourite colours and accessories to inspire you.
1. Invest in a good furniture set, wooden is ideal for all styles of garden being durable, timeless and weather hardy.
2. If you don't have trees to provide shade, try adding a parasol. You can find these very easily at garden centers or, if you want something really special, have your own bespoke parasol made like ours from Sunbeam Jackie (we chose a selection of our Artisan fabrics)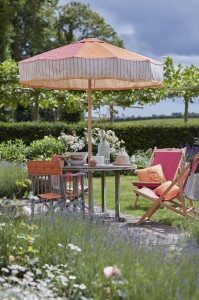 3. Have a variety of scatter cushions on hand for your chairs and benches. You can order these made to measure through us or try making them yourself in a mixture of patterns and colours. If you go for a neutral furniture set, your cushions can easily be changed from time to time when you fancy a different look.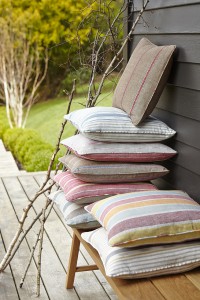 4. Have some oilcloth handy for lunches outside meaning you can easily clean up spills and crumbs. A top tip – if you aren't using your oilcloth all the time, keep it rolled onto a cardboard tube to make sure it is crease free next time you do.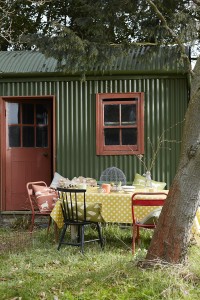 5. In a neutral colour scheme,  plant pots are a good way adding a splash of colour. Try growing wildflowers or a selection of herbs you can use for cooking.
6. If you have an outside wall to incorporate, try painting it in a cheerful colour or decorating with vintage signs, lanterns or even artwork.
7. Have plenty of candles, blankets and throws handy for when the sun goes in.
8. If you are looking for bright, cheery colours that work well together, one of our favourite colour combinations for using outside is a Sunny Saffron calmed with Duck Egg and Smoke blues.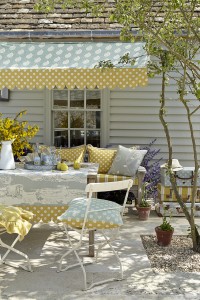 9. When space is limited, for example a small patio, just a fold-able table and chair set with a beautiful tablecloth and some fresh flowers is perfect for making somewhere to have your morning coffee, read your book or have a cosy evening meal.