Adapting your home for lockdown
Adapting your home for lock down – ideas to make it a place for creativity, motivation and downtime.
I am feeling rather sad, as I am sure some of you are, that our lives are being threatened and turned upside down by a virus. However, it is really sobering that in spite of our seemingly technological advanced society, we are not as invincible as we thought we were.
The most important thing, over everything else, is to keep people well, especially the elderly (a group I have just entered according to the government!).
So we have closed our shop and showroom, but will continue to operate our mail order service as usual, for as long as we can.
Please be assured that our sample and fabric orders are all processed in compliance with the strictest recommendations of the UK government and the World Health Organisation, which includes my team practising regular hand washing, social distancing etc.
Telephone consultations and home delivery service
We have been trying to come up with positive solutions to help you fulfil your soft furnishing projects without the need to leave your house! We can talk over the phone, Face-time or Skype and can even look at emailed photos of windows and rooms!
We can guide you through schemes, post samples and talk you through measuring for your blinds and curtains etc; we would hope to have these with you in 6-8 weeks.
(There are also instructions on how to measure up on my website), click here to find out more.
Buy some ready-made cushions
Just before I closed my shop, Terry, our expert cushion maker, delivered a huge pile of cushions for our showroom; we are now going to offer these to you online: they are in all colours, styles and sizes. Click here if you would like to see them. Remember a couple of new cushions can transform a room, adding  a splash of colour and pattern.
Sewing projects and remnants
We are all very busy putting piles of beautiful bargain remnants onto my web site for home sewing projects, click here to see browse our wide selection of remnants. Making something new will help to pass some time and also cheer you up, and remember my book is available if you need some inspiration.
Curtains and blinds are surprisingly easy to make as long as you can operate a simple sewing machine. Curtains especially involve hand sewing (just a simple hemming stitch) which is so therapeutic to do.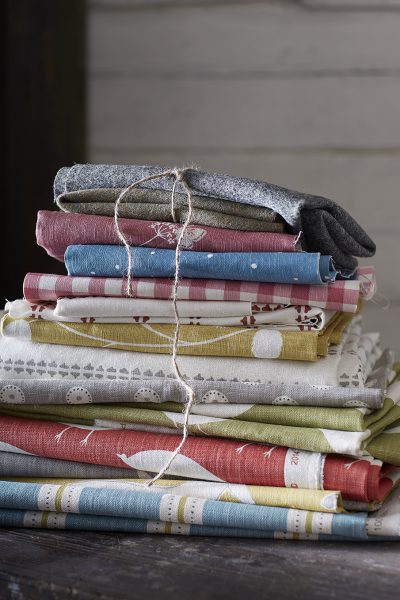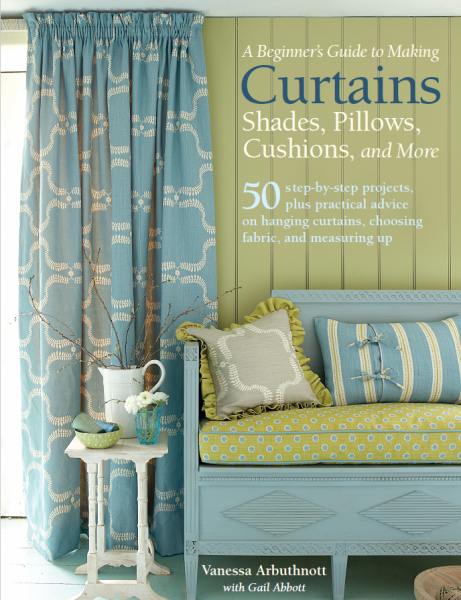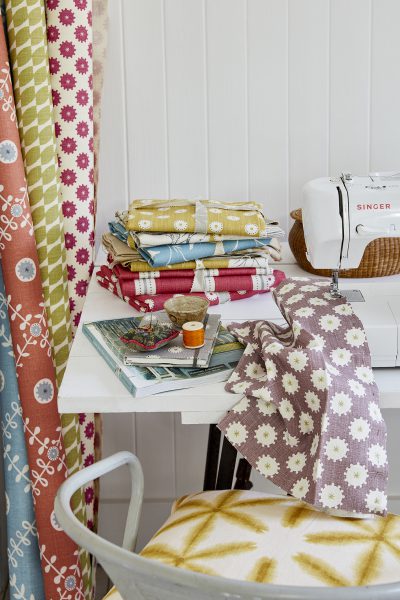 Working from home
For some working from home will be a new challenge. The kitchen table will be in hot demand at the moment, so try and find a different space to set up your computer and work in: maybe a small private area under the stairs, by a window in your bed room or even as it gets warmer in a potting shed or at end of the sitting room…just somewhere you can call your own…try and do the same for each member of the family.
Here are a few 'home offices' to inspire you.  For my home work space I have found old office chairs on eBay and re-upholstered them in my fabrics. On my old table I have used a much loved blanket, covered with a piece of oilcloth to create a good work surface, (the blanket makes it softer and more luxurious!).
I have also had some fun covering boxes, box files and pen pots with off cuts of fabric (see below), to file away my bits and bobs.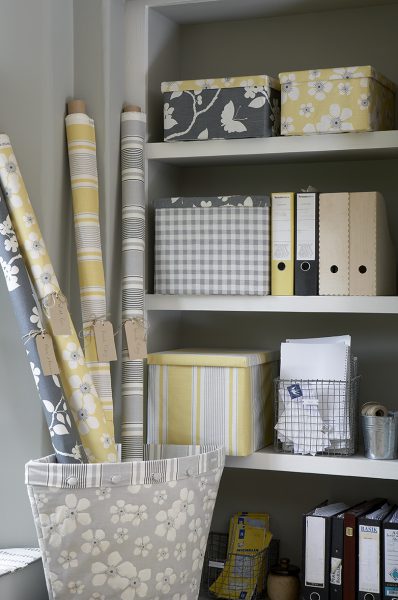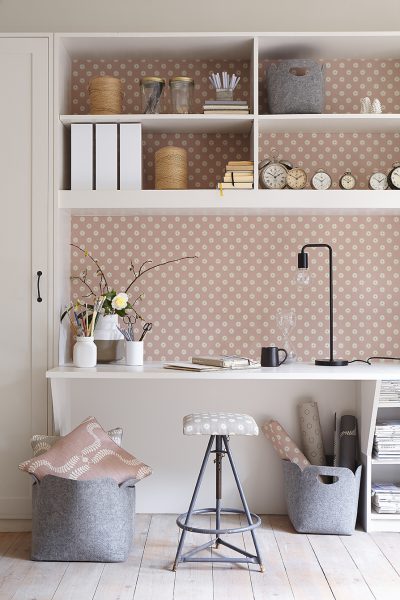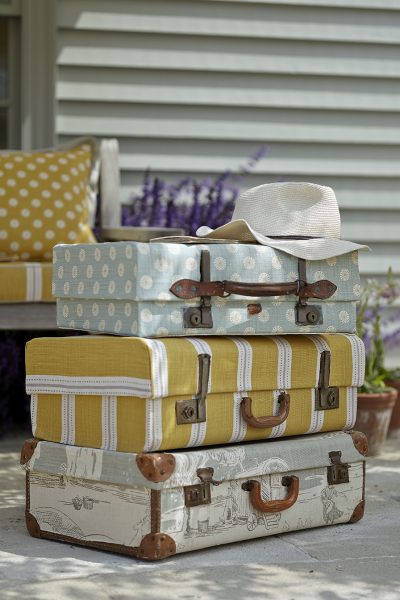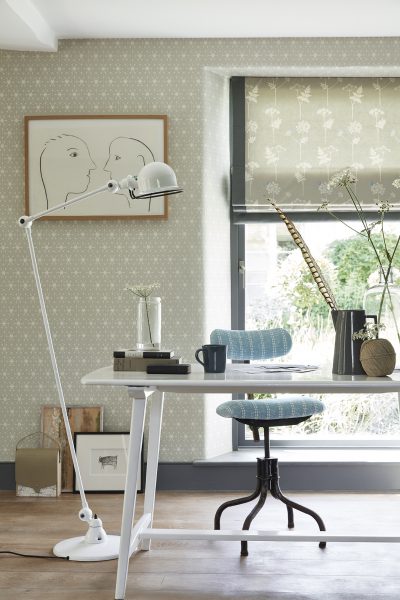 And finally…..Bringing nature into your home
Why not create an area for nature somewhere in your house where you can place a small table the children can see.Perhaps in an entrance hall or by a window in the sitting room…every time you go for your daily walk try and bring back something to place on this table…even a few twigs from any tree with leaf buds will bring fascination, put them in a jar of water and watch the leaf buds unfurl. At the moment you could collect twigs with all sorts of blossom, maybe cherry or hawthorn from the hedgerow. Feathers are a great favourite with children as are pieces a bark, leaf skeletons and moss and even beautiful stones….
These blossom laden branches look wonderful in large glass jugs on your kitchen table…as do the twigs with leaf buds; they bring nature into your home in an architectural and quite dramatic way.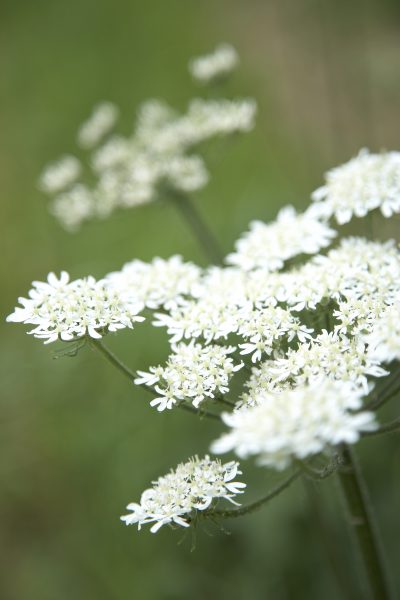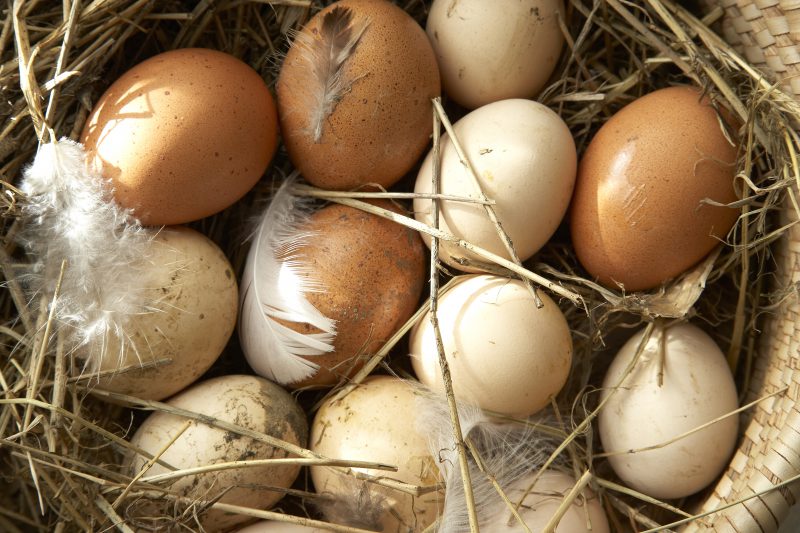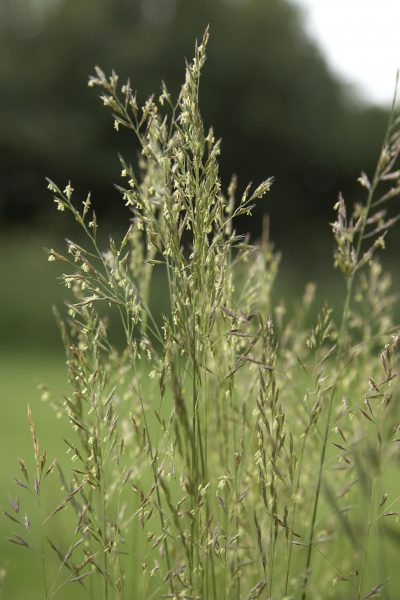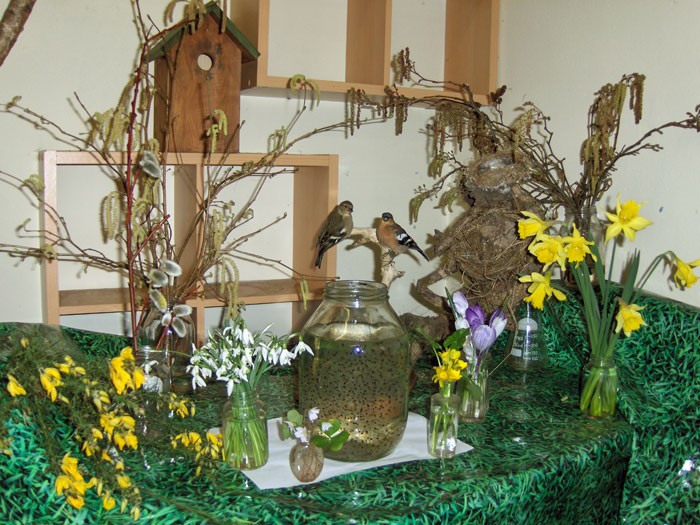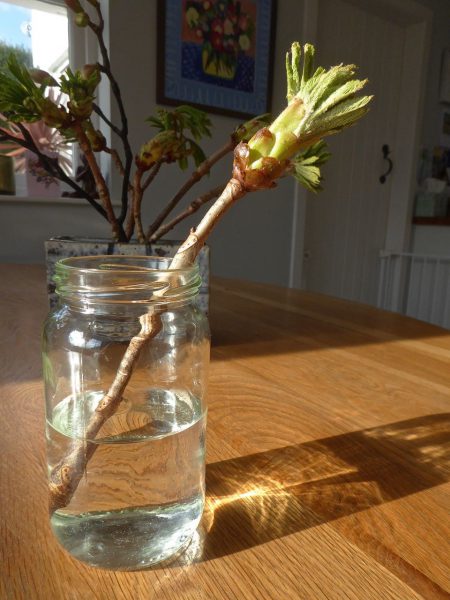 Keep calm and stay focused on what you can do rather than what you can't do, maybe learn a new skill online…I cant recommend potato printing enough… I will tell you about this in my next blog.
My daughter Flora runs online courses: see www.floraarbuthnott.com. She teaches all you about Botanical Ink Making and Natural Dyes.
Good luck and please share any photos of your creative projects.
Vanessa