Giving an old chair a second chance….
From my Instagram, I can see that people really enjoy giving an old special chair a new lease of life: just think a re-upholstered chair can last for another whole generation.  Encouragingly,  upholstery courses are still readily available and we sell loads of upholstery fabrics, you can even join a class at The Bothy, (my community room next to my shop).
The wooden frames of old chairs are often particularly well made and a couple of new springs later, they are often as good as new. In a  society where we throw far too many things away, this is a way of being resourceful and upcycling is definitely becoming vital.
A beautifully written post came to me on Instagram about Josephine's fathers-in-laws' chair:  "where at least a thousand books were read, crosswords finished, discussions and debates took place…" the chair happened to be covered in my Paisley Ground linen union and so was luckily shared with me…
This inspired me to look at chairs in a different way, almost seeing them with ghosts of the past sitting in them, the chair and occupant belonging to each other.
I have inherited two chairs from my parents and one from my grandfather, they have slowly been repaired and reupholstered, here are their stories: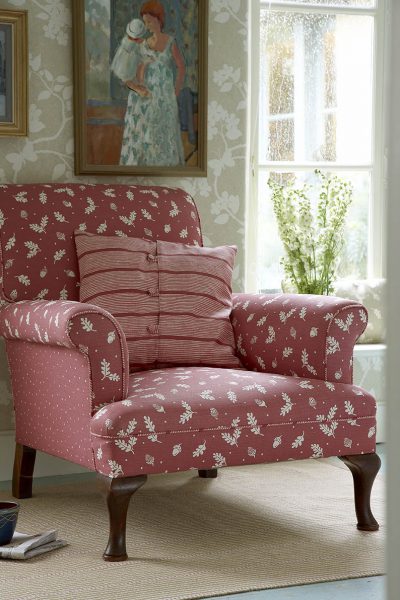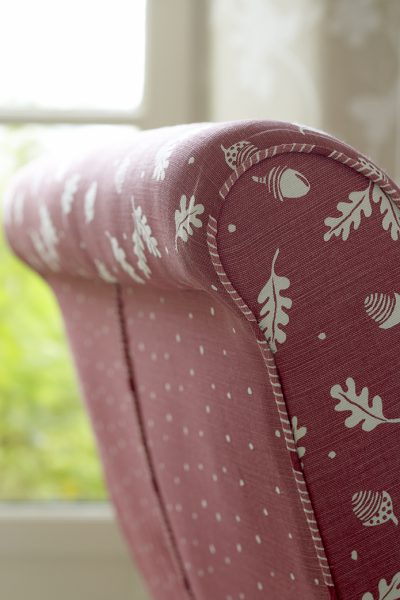 My Grandfather's chair
Grand Pop had a very large armchair…he was tall, quite rotund with a large bristly mustache and twinkling blue eyes. He snoozed after lunch in this chair and also drank his regular glass of early evening whisky in it. He was a retired Brigadier and an artist, always loving to us grandchildren and very occasionally snapped at us if we crossed the line… (I have covered it in coordinating fabrics in Cranberry: Acorn and Leaf, Plain Dotty for the sides and back and piping in Stripe and Dash).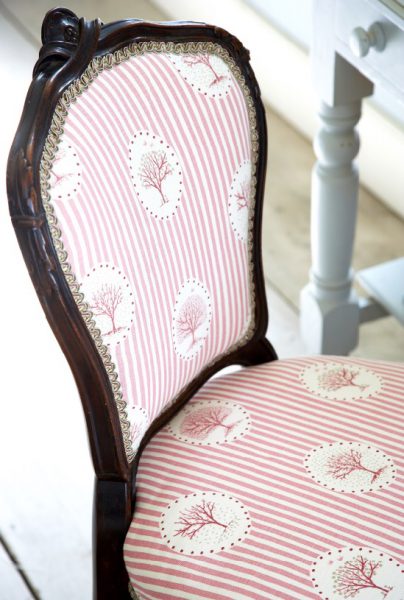 My Mother's chair
This is my Mother's dressing table chair…I have strong memories of lying in her bed as as a small child, whilst she got dressed and 'did her hair and face' sitting on this chair…lots of back combing and hair spray, face powder and pink lipstick …
I am also lucky enough to have her dressing table, but I am afraid I barely sit there, favouring self-drying hair and no make-up, poor Mum, I am really letting the side down… (This is covered in my Four Seasons in Sea Pink)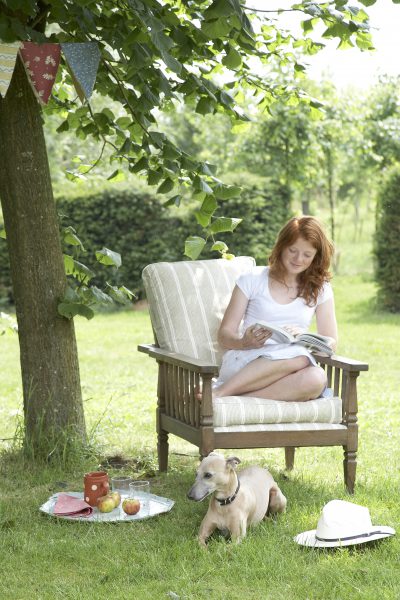 My Father's Chair
This lovely Arts and Crafts chair belonged to my father, he bought it at an auction so it already had a untold story to tell. I have photos of him reclining in it fast asleep with my little sister snuggled up with him in about 1963. It was an intriguing chair to us children, because it had a very simple adjustable back so you could lie flatter for a snooze. Here my daughter Rose and our whippet Brynny are the occupants. (It is covered in my Stripe and Dash in Stone and Cranberry).
Please come and choose from my collection of linens, tweeds and velvets  for your upholstery projects. If you're not feeling brave enough or simply don't have time, why not start the tradition in your family and look no further than our Made To Measure section on the website where you can chose from four chair styles and any of our fabrics. Simply click here to find out more.
We would be delighted to see any photos of your chairs along with the 'story' behind them.. email vanessa@vanessaarbuthnott.co.uk