March Moodboard – Turquoise and Saffron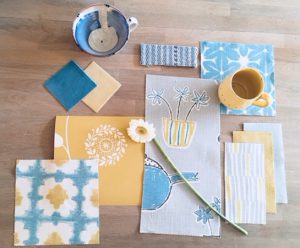 With the arrival of March, we are well and truly ready for Spring! Taking inspiration from Vanessa's new collection, our home design consultant Clair has put together this months mood with a turquoise and saffron colour scheme.
'Tea Time' is a quirky and eclectic design perfect for kitchens and dining rooms. The large pattern makes it particularly suitable for curtains and blinds. Clair has chosen the Clay, Powder Blue and Lemon colour way here and teamed it with some turquoise 'Shibori' and'Origami' to brighten it up. These would be great for cushions or seat covers. Our new range of velvets have been especially chosen by Vanessa to complement her printed linens and the 'Smoke' blue and 'Honey' yellow tone in really well with these designs. Finish your room off with some beautiful fresh flowers (we love Gerberas from our local florist Oops a Daisy) and some brightly coloured pottery such as the David Garland mugs above.
You can order samples of all of the fabrics in the picture above by clicking here – https://www.vanessaarbuthnott.co.uk/samples and don't forget to send us snaps of your moodboards and rooms!