THE DELIGHT OF MY 'LOCK DOWN' HOME PROJECT COMPETITION!
THE WINNER OF MY COMPETITION IS…..
It has been an unexpected joy running this home projects competition. Not being able to be client facing at the moment, having direct communication with so many of you has been important and heart warming. I feel as though I have gone back to where it all started 30 years ago, when with a pushchair and a brace of small kids, I searched around old junk shops looking for treasures…old chairs, footstools, beds and cupboards to transform with paint and fabric.
I was totally blown away by the reaction to the competition, with well over 100 inspired entries. Your creations were truly amazing, so thank you to everyone who took part, shared and revelled in them.
I have spent hours looking back through your wonderful entries and taken into account all of your comments too. I was delighted by the vast number of people who took part. So much so, I decided to create the following categories; 'JUST FOR FUN', 'CHAIRS & UPHOLSTERY' & 'BEST DRESSED WINDOW' and award runners up too…These runners up along with the all important children who took part, will receive a surprise gift parcel in the post from me.
It has been a very difficult task to choose a winner but I had to… each category winner will receive a £100 voucher to spend on more fabric! The vouchers will be valid for one year.
So HUGE congratulations to you all and here it goes:
UPHOLSTERY
WINNER: VICKY ROBINSON – Jigsaw Headboards in Wild & Free
RUNNERS UP:
HEATHER CORNICK – Directors Chair in Paisley Ground – Apple Green & Raspberry
TUG RHYS – Retro Chair in Momo – Tangerine & Sweet Pea
KAREN SHORT – Chaise Longue in Shibori – Turquoise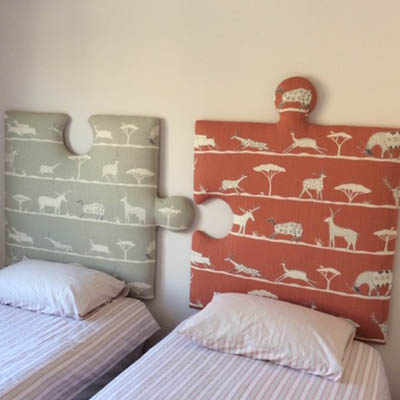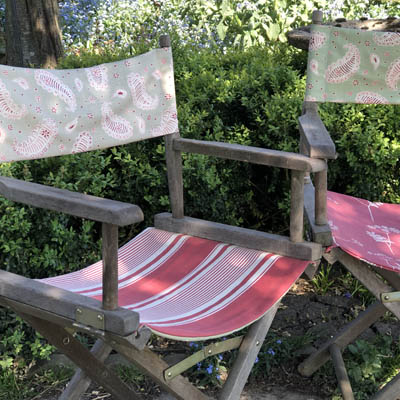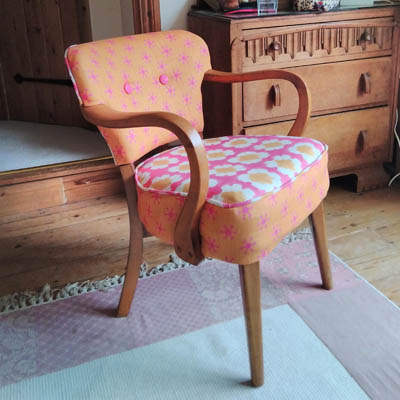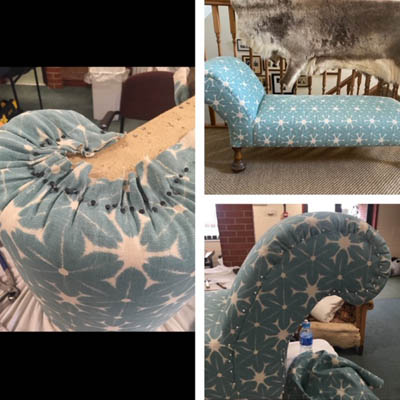 CURTAINS AND BLINDS
WINNER: TINA GARDNER – Curtains in Japonica – Indigo
RUNNERS UP:
SUSAN DOWNING – Curtains in For The Love Of Rose – Clay & Damson
VIVIENNE WRIGHT – Curtains in Flora & Fauna – Raspberry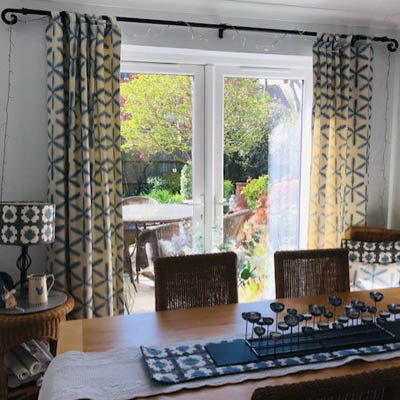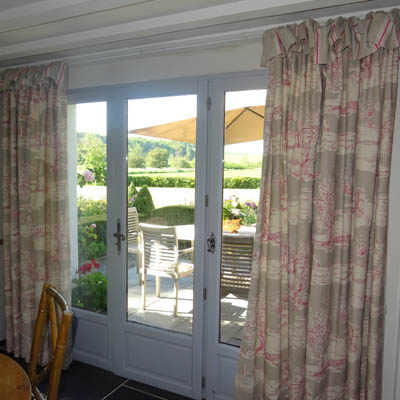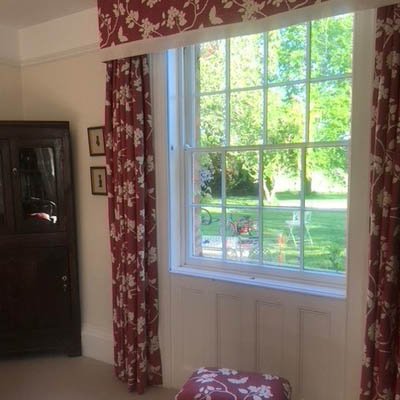 JUST FOR FUN
WINNER: LAORAG HUNTER  for her beautiful hat in Pretty Maids – Sweet Pea & Winter
RUNNERS UP:
JAN HOPCFROFT – Dog in Pretty Maids – Saffron & Winter
SANDRA COLMAN – Birds in Pretty Maids – Saffron & Winter
LIZ BLOIS – Lavender bags in Cow Parsley & Pretty Maids
JANET TRAYNOR- Radio in Pretty Maids – Pigeon, Teal & Winter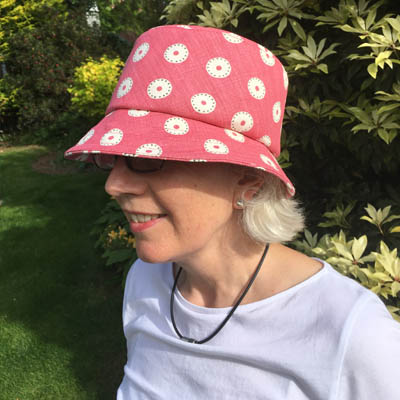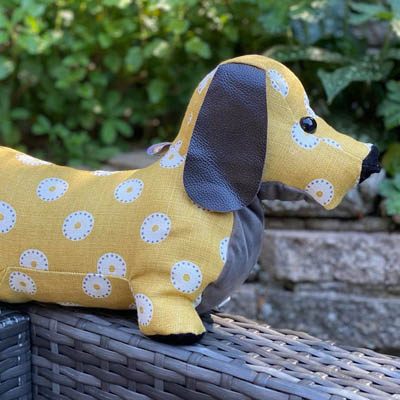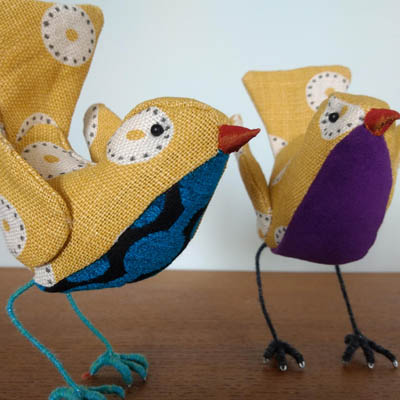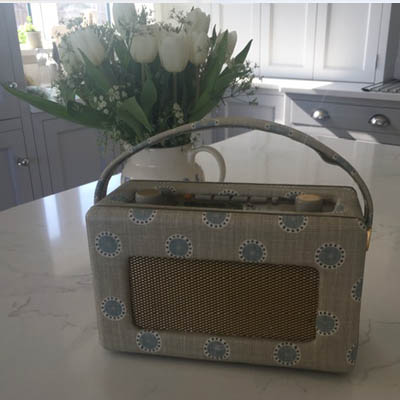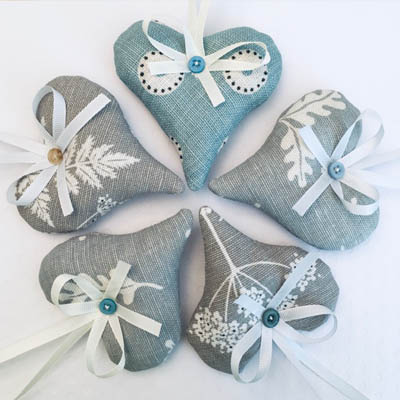 CHILDREN:
RACHEL NUTTAL'S CHILDREN – Aprons in Stockholm Stripe – Dove, Saffron & Winter, & Pretty Maids – Duck Egg & Winter
OLIVIA SHARPSTONE – Door stop in Apples & Pears – Smoke, Peach & Charcoal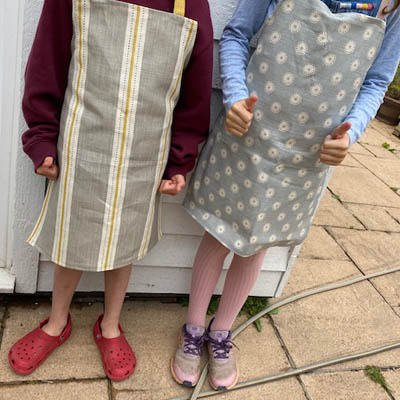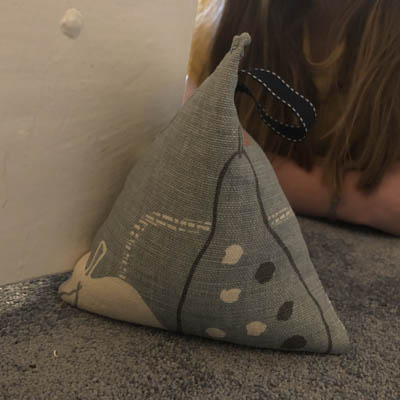 STORIES: Please see my Instagram for all the amazing stories surrounding these projects. Here are just two:
MARIE EDWARDS sent in the photo below of her beautiful cushions in Dawn Chorus and Fruit Garden and sent me these words:
"My name is Marie Edwards and I am a Practice Manager of a small GP practice in Aldershot, Hampshire.My job is a difficult one under normal circumstances, but the last few months have been particularly stressful. It has been very difficult for all, but when you are living it 24/7 it is exhausting. There have been lots of tears! I needed a project. This is the first time I have used your fabric, in fact I only discovered you a few weeks ago.  I have been looking to up date my open plan living room for a couple of years. It is a large space and actually quite difficult to make an impact with furnishings. I have always been inspired by fabric and it is always my starting point.
Although this is such a difficult time for people, in particular those who have lost loved ones. I have wondered if people have found renewed confidence, motivation and creativity now they have had some time and head space? I would like to think that out of this tragedy will come a new perspective, vision & self worth."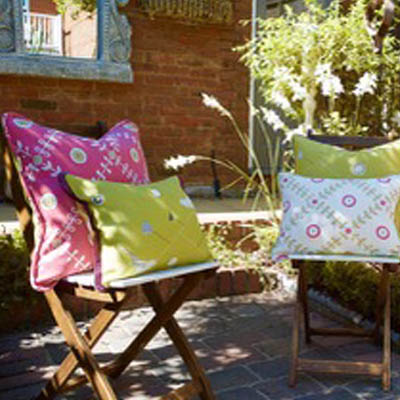 LAORAG HUNTER maker of the beautiful sun hat writes:
"When I retired at the start of 2020, I intended to get more involved with my garden and sewing machine.  Little did I know how valuable these activities would become in the Covid 19 Lockdown.  Both have given me challenges, distraction, purpose, and pleasure.  April brought beautiful sunny days to Dundee and I needed a garden hat.  I have never found any hat that fitted me and in a eureka moment I was inspired to have a go at making one.  I am so happy with the result.  The Pretty Maids fabric is distinctive and cheerful and holds the hat shape perfectly.  The project has progressed my sewing skills with improvements in my attention and precision.  The best bit is I have made something that I will use and love wearing.