Made to Measure Cotton
Lampshades
Help & More
Get 5 Free Samples
Additional samples are £1 each. £1.50 P&P for UK residents.
Returnable Sample
Buy half a metre of fabric which is refunded on return within 30 days in good condition
Let's get started by selecting your fabric…
There are 20 Lampshade fabrics to choose from (Page
1
of
1
)
There are 20 Lampshade fabrics to choose from (Page
1
of
1
)
Made to Measure Lampshades
Our Christmas deadline for Lampshades has now passed, but we are still processing orders as normal. For any questions, please call 01285 831437, or email sales@vanessaarbuthnott.co.uk
Our custom made lampshades are beautifully crafted with great care and attention. We make Drum and Empire lampshades both for ceilings and lamp bases. We are more than happy to assist you on the telephone or in our shop with advice and help should you need it, just head to our contact page by clicking here. Your made to measure lampshade will be delivered to you within 5 weeks of placing your order.
Our drum ceiling shades are available in the following diameters:
Small: 20cm, Medium: 30cm, Large: 40cm and Extra Large: 50cm - this size requires fabric to be joined and will have a seam. The height will vary depending on the diameter chosen; options will be given upon placing the order. You can pick the fabrics of your choice for both the inside and outside of your drum lampshades. *Please note that contrast linings are only available for drum ceiling lampshades. We also offer lampshade diffusers which you can add to soften the light in your room, which you can add to your basket by clicking here.
Our empire lampshades come in four sizes:
Pair of extra small lampshades for wall lights: 8cm top diameter, 13cm height, 14.5cm bottom diameter. *Please note that this size can only be ordered in pairs.
Small: 10cm top diameter, 17cm height, 25cm bottom diameter.
Medium: 15cm top diameter, 25.5cm height and 40cm bottom diameter.
Large: 20cm top diameter, 26cm height, 40cm bottom diameter.
*All empire lampshades do not have an inner, contrast fabric option.
What shade options are available?
The options we offer for the lampshades are as follows: Drum Lampshade without contrast lining (1), Drum Lampshade with contrast lining (2), Empire Lampshade; these do not have the option for contrast linings (3), or candle sized empire lampshades, which will always come as a pair when ordering (4) - Please note that the candle shades come with a fitting that clips onto the light bulb itself using a 'candle clip fitting'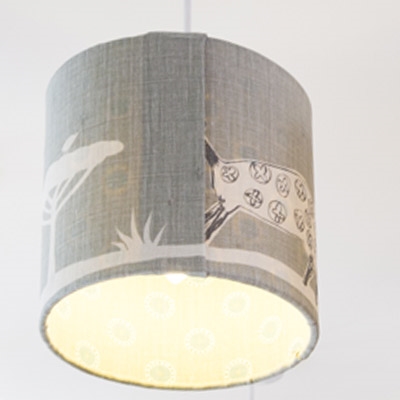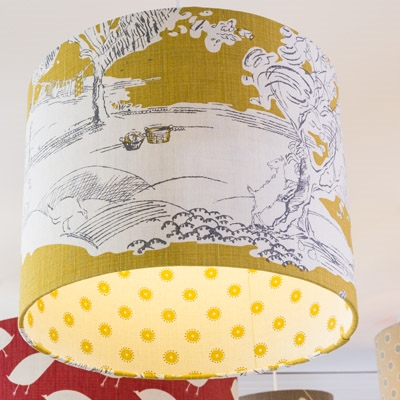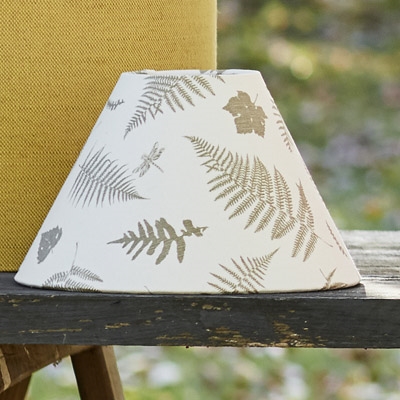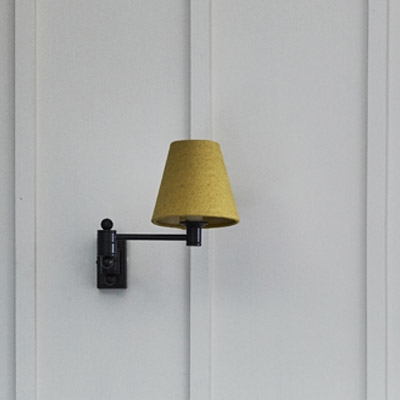 1 2 3 4
If a contrast lining is chosen for the inside of the drum lampshade, will the fabric show through?
If another one of our fabrics is used for the inside of your drum lampshade, then it will show through slightly when lit at night time. Our maker uses a white laminate to place the fabrics onto, so the secondary fabric is as hidden as it can be, but when lit during the evening, will show through a little. During the day this is of course not a problem, but please be aware of this when considering your lampshade ideas.
All our lampshades are supplied with a UK B22 standard fitting. The smaller candle shades come with a fitting that clips onto the light bulb itself using a 'candle clip fitting'
TO VIEW ALL OF OUR LAMPSHADE SIZES, PLEASE CLICK HERE