Made to Measure Bathroom
Roller Blinds
A simple style of blind
We can make Made to Measure bathroom roller blinds using our designer fabric to your exact requirements, to fit any window size or style. Each of our bespoke blinds for the bathroom can be beautifully made for you by professionals in our traditional workshop based in the UK. They are hand finished with great care and attention and delivered to you well within eight weeks.
You can find a useful video talking you through how to measure up for blinds by clicking here.
Are roller blinds a good choice for bathrooms?
Roller blinds are smart and simple: they cover bathroom windows with a single piece of fabric that can be rolled up on a sunny day, or rolled down to provide shade and privacy. If you use your window sill for storage, you can adjust your blind to create the space you need. Blinds are easy to maintain (a quick dust and they are as good as new) and come in a vast array of styles, patterns and colours. You can choose between a right or left side winder or a central pull.
Which type of roller blind should I choose?
I would recommend for a bathroom window, a Laminated (white backing) roller blind or Processed (no backing but stiffened) roller blind for which my Woven designer fabrics are particularly well suited, and then add a beautiful flat pelmet if the blind is in a recess (highly recommended as it hides the roll from view. It is made to pattern match with the blind. This is an option you choose when ordering your blinds on our web site.
Let's get started by selecting your fabric…





How to measure up for your Roller blind: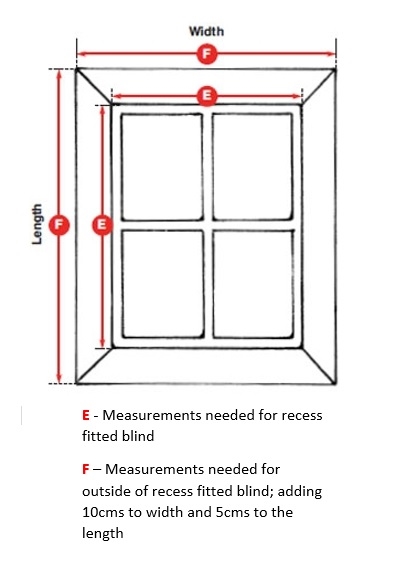 Inside a window recess
Width: Measure the width of the recess from the left to the right (see E on the diagram)
Length: Measure from the top of the recess to the bottom (see E on the diagram)
YOU ONLY NEED TO PROVIDE US WITH THE FULL RECESS MEASUREMENT - the maker will allow for the rolling mechanism when making the blinds (There will be a gap of about 1.5cm between the fabric and the recess wall which will allow some light through, even with a blackout lining)
Outside a window recess
Width: Measure the outside of the window recess (see F on diagram) and add at least 5cms on each side to minimise any light leaking through.
Length: Measure from the required position above the window (again, we recommend adding at least 5cm) to the length you require (see F on the diagram)
This also applies to blinds that will be fitted to the outside of a door recess, we only need the width and length that you would like the finished blind to be.
Please note that if your roller blind is outside the recess, we have to allow for the mechanism at either side of the roller blind, which is usually 1.5cm each side. For example, if you want the fabric width of your blind to measure 100cm, you need to specify this upon placing your order otherwise our makers will assume it is the finished width, and cut the fabric down to 97cm with the remaining 3cm for the mechanism, i.e. 100cm full fabric width + 3cm for mechanism, making the finished width 103cm.
Your Roller blinds will be delivered ready rolled complete with fittings.