Made to Measure Blue
Roller Blinds
A simple style of blind
Our made to measure roller blinds are a simple style of blind that works well in kitchens, bathrooms and places where you need maximum light and a more utilitarian feel. You can choose to have it laminated or laminated with blackout material. The pull can be set on whichever side you prefer or can even be in the middle.
You can have your custom roller blinds reversed rolled so you don't see the white roll at the top however please note that this does makes the blind hang further out of the window recess (see photos).
You can also choose to have your made to measure roller blinds made without any laminated backing, so you can see the fabric on both sides (particularly suitable for our Woven fabrics), this is called a processed blind. Please note the mechanisms on our Made to Measure Roller Blinds come with a 1 year guarantee.
Young children can strangle in the loop of pull cords and chains that operate window coverings. New safety regulations BS EN13120 from 28th February 2014; please read and follow the instructions provided with your roller blinds and use the safety equipment supplied. If you have any questions, please contact us.
As from the 28th March any roller blinds ordered through our Made to Measure service will be supplied with a safety device and should be fitted as directed in the fitting instructions also supplied with the roller blinds ordered.
Let's get started by selecting your fabric…





How to measure up for your Roller blind: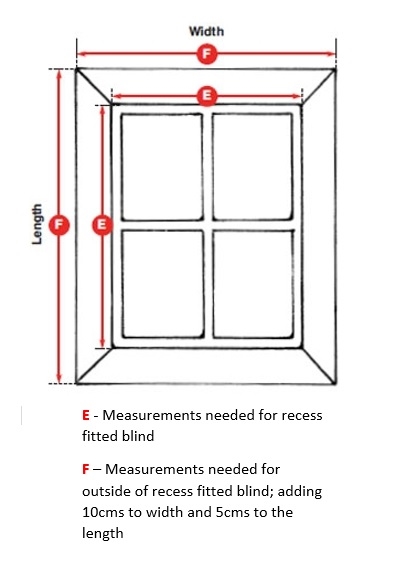 Inside a window recess
Width: Measure the width of the recess from the left to the right (see E on the diagram)
Length: Measure from the top of the recess to the bottom (see E on the diagram)
YOU ONLY NEED TO PROVIDE US WITH THE FULL RECESS MEASUREMENT - the maker will allow for the rolling mechanism when making the blinds (There will be a gap of about 1.5cm between the fabric and the recess wall which will allow some light through, even with a blackout lining)
Outside a window recess
Width: Measure the outside of the window recess (see F on diagram) and add at least 5cms on each side to minimise any light leaking through.
Length: Measure from the required position above the window (again, we recommend adding at least 5cm) to the length you require (see F on the diagram)
This also applies to blinds that will be fitted to the outside of a door recess, we only need the width and length that you would like the finished blind to be.
Your Roller blinds will be delivered ready rolled complete with fittings.