Greys , Blackout Made to Measure
Roman Blinds
A classic looking blind
Elegant, stylish and practical - a Roman Blind is perfect for any room and works well on all windows, large or small.
Our made to measure Roman Blinds are supplied with two options...
1) A wooden batten with a corded pull. Also provided will be an acorn and 2 cleats.
2) Fixed to a rotary chain track with chrome beads.
Both options are available. However, we would advise, due to increased health and safety restrictions, that blinds over 1.3m in width and a drop/length of 1.5m or over are ordered on a rotary chain track. This is because the pressure required to pull up the larger blind tends to cause the safelty 'break aways' to pop open as would a child pulling on the cords.
You can choose to have a contrasting border of fabric down two sides and along the bottom; we also offer a contrasting border to the bottom of the blind only. Please note that this border will be visible when the blind is up. The mechanisms on our Roman Blinds come with a 1 year guarantee.
Young children can strangle in the loop of pull cords and chains that operate window coverings. New safety regulations BS EN13120 from 28th February 2014; please read and follow the instructions provided with your blind and use the safety equipment supplied. If you have any questions, please contact us.
As from the 28th March any blinds ordered through our Made to Measure service will be supplied with a safety device and should be fitted as directed in the fitting instructions also supplied with the blind.
Let's get started by selecting your fabric…





HOW TO MEASURE UP FOR YOUR ROMAN BLINDS
INSIDE A WINDOW RECESS
Width: Measure across the recess at several points and give the narrowest measurement minus 1cm for clearance so the blind will run freely (see E on the diagram)
Length: Measure from the top of the recess to the bottom (see E on the diagram)
OUTSIDE A WINDOW RECESS
Width: Measure the width of the recess and add at least 5cms on each side for overlapping (see F on the diagram)
Length: Measure from the required starting position above the window to the length you require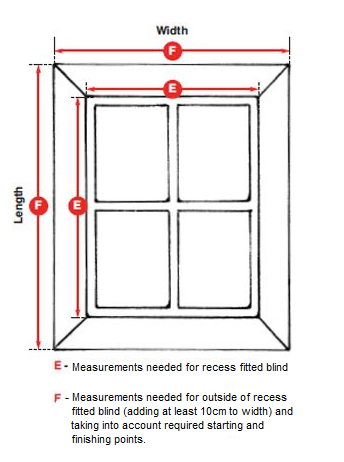 Filter Options
1 Roman Blind fabric to choose from