Made to Measure Spotted, Pet Friendly
Roman Blinds
Help & More
Get 5 Free Samples
Additional samples are £1 each. £1.50 P&P for UK residents.
Returnable Sample
Buy half a metre of fabric which is refunded on return within 30 days in good condition
Let's get started by selecting your fabric…
Made to Measure Roman Blinds
Elegant, stylish and practical - Our made to measure Roman Blinds are perfect for any room and works well on all windows, large or small. They are hand finished with great care and attention and delivered to you well within 8 weeks.
Our UK-made custom Roman Blinds are supplied with two options...
1) Roman Blinds with wooden batten & corded pull. Also provided will be either a wooden, brass or chrome acorn, along with 2 cleats.
2) Made to Measure Roman Blinds fixed to a rotary chain track with the following bead options: Gun Metal, Chrome, Antique Bronze & Pewter. *Please note that the minimum width for a Roman Blind on rotary chain track is 50cm
Both options are available. However, we would advise, due to increased health and safety restrictions, that made to measure Roman Blinds over 1.3m in width and a drop/length of 1.5m or over are ordered on a rotary chain track. This is because the pressure required to pull up the larger blind tends to cause the safety 'break aways' to pop open as would a child pulling on the cords.
You can choose to have a contrasting border of fabric down two sides and along the bottom; we also offer a contrasting border to the bottom of the blind only. Please note that this border will be visible when the blind is up. The mechanisms on our quality designer Roman Blinds come with a 1 year guarantee.
What linings are available?
We offer Unlined Roman Blinds, Standard Lined Roman Blinds, Blackout Roman Blinds and Custom Lined Roman Blinds (a fabric of your choice that lines the blind on the reverse), and Interlined Roman Blinds (a cotton wadding that sits between the main fabric and the lining and helps as a draft excluder).
Young children can strangle in the loop of pull cords and chains that operate window coverings. New safety regulations BS EN13120 from 28th February 2014; please read and follow the instructions provided with your custom roman blinds and use the safety equipment supplied. If you have any questions, please contact us.
As from the 28th March 2019 any blinds ordered through our UK Made to Measure roman blind service will be supplied with a safety device and should be fitted as directed in the fitting instructions also supplied with the blind.
What are they placed on?
The Roman Blinds can be made to fit on a either a wooden batten (1), or a metal rotary chain track (2). We cannot make a Roman Blind on wooden batten that exceeds 130cm in width, and 150cm in drop. This is because the pressure and weight of the fabric may cause the safety 'break aways' to pop open. Anything over these measurements would need to be on a rotary track.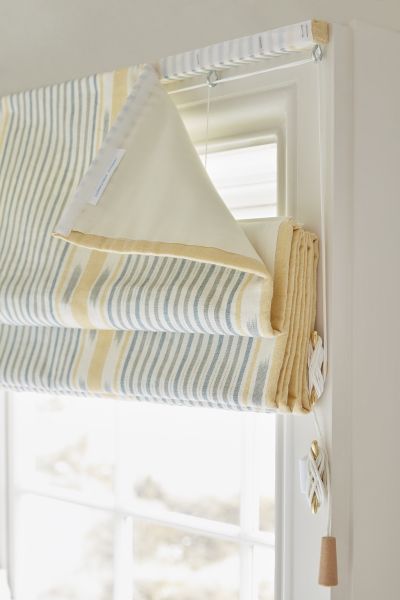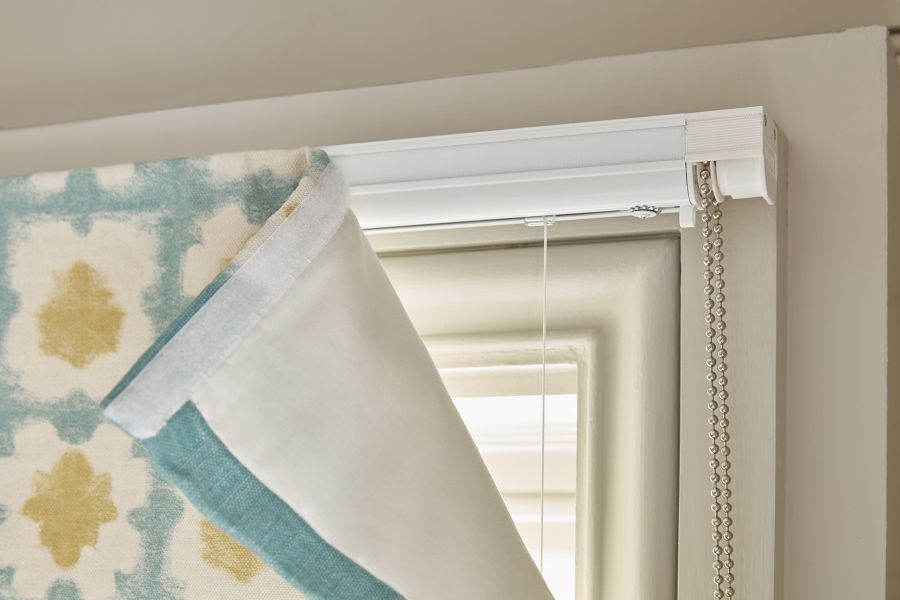 1 2
What control weights are available?
We have a selection of acorns and beaded chains available for Roman Blinds. The Acorns are only available for wooden battens, the options of which are as follows (1), below - left to right: Wooden, Chrome and Brass. These will come with two complementary cleats upon receipt of the blind/s, depending on your chosen control weight.
Beaded chains are only available for rotary track mechanisms. The chain options available are as follows (2), below - top to bottom: Gun Metal, Pewter, Chrome and Antique Bronze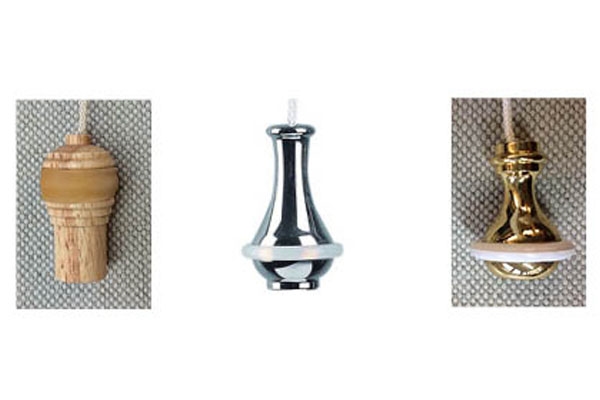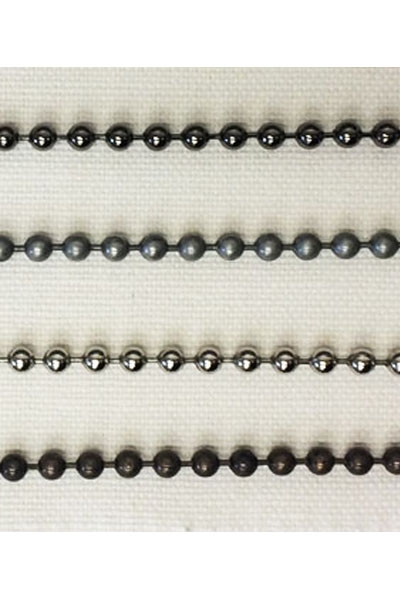 1 2
Are there border options for Roman Blinds?
Yes there are! We can apply a bottom border (1), or an all round border (2). *Please note that the edging on an all round border will be placed on the left, bottom & right hand side of your roman blind, not the top. The edging itself is approximately 5cm wide. Alternatively, you may not want a border at all, which is absolutely fine we do this as well (3). Borders are a great way to tie in existing room colours, to add a contrasting colour/pattern to the main fabric (maybe bring the outside in & choose a colour from your garden?), or just used to frame a design, the choice is yours!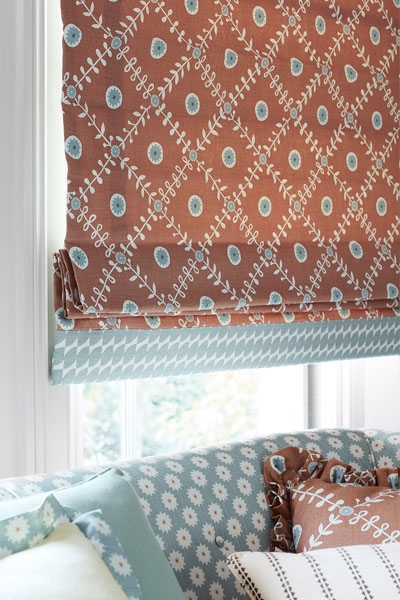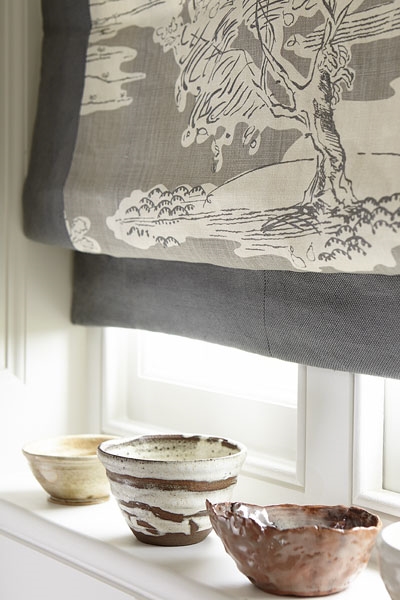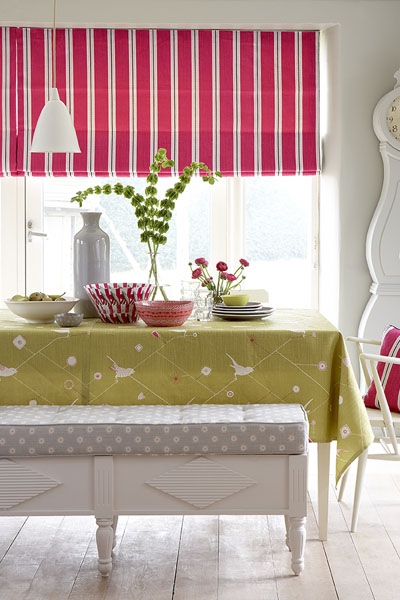 1 2 3
HOW TO MEASURE UP FOR YOUR ROMAN BLINDS
INSIDE A WINDOW RECESS
Width: Measure across the recess at several points and give the narrowest measurement minus 1cm for clearance so the blind will run freely (see E on the diagram)
Length: Measure from the top of the recess to the bottom (see E on the diagram)
OUTSIDE A WINDOW RECESS
Width: Measure the width of the recess and add at least 5cms on each side for overlapping (see F on the diagram)
Length: Measure from the required starting position above the window to the length you require, adding 5cms on the length