Wall coverings have a distinct history, dating as far back as the 1400s with tapestries and panelling evolving into current designer wall coverings and wallpapers.
While wall colour encourages mood, designer wallpaper design does this and a bit more. Visually, it offers a direction towards a particular style.
William Morris recognised the importance of wallpaper when he advised in one of his lectures:
'Whatever you have in your rooms think first of the walls for they are that which makes your house and home, and if you do not make some sacrifices in their favour you will find your chambers have a kind of makeshift, lodging-house look about them…'
Without having to invest in expensive art or lighting, designer wallpaper is a great way to enhance a room design with a bit of dramatic "wow!
It's safe to say most of us have dabbled with wallpaper, maybe as a feature wall in a bedroom or above a fireplace. But while the feature wall has served our homes well, it's now time to push the wallpapering boundaries to new limits by covering an entire room in your favourite print or pattern. Yes, that's all four walls covered top to toe, corner to corner, in wallpaper….
Why not buy some rolls of paper in our sale and transform your room in a few hours…wall coverings differ to papers because the pattern is printed on a stronger fabric-paper mix which is you can easily put up by pasting the wall first so no messy wallpaper tables.
Below are some of my favourite designs and remember, there will be 15% off all designs until the end of August! Please enter WALL15 at the checkout to apply this discount.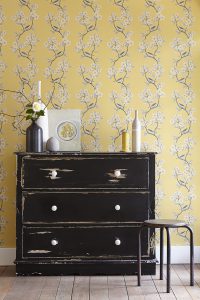 create an oriental Chinese look with my Songbirds wall covering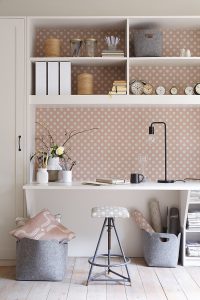 a contemporary office using my Pretty Maids wall covering in Dusky Pink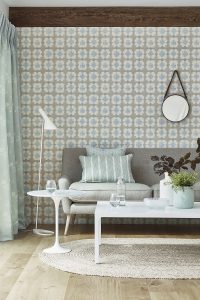 a geometric/modern retro look with my Origami wall covering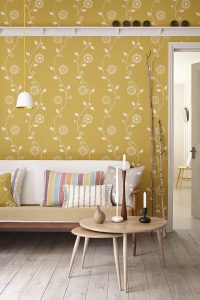 a fresh, Swedish style sitting room using Saffron Gypsy Garland wall covering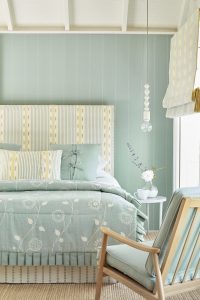 a simple, understated bedroom with Spotty Stripe wall covering in Smoke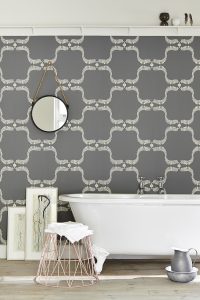 and a statement bathroom in Up the Garden Path in Winter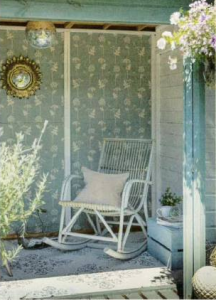 bring natural forms into your decoration with Cow Parsley wallpaper
Whereas furniture and textiles often survive, and pass from one generation to the next, wallpaper is frequently damaged, covered over or removed altogether. It has generally been the easiest and, relatively speaking, the cheapest aspect of interior decoration to replace, and thus it is the least likely to survive. This is unfortunate because wallpaper is the most eloquent embodiment of changing fashions, vivid evidence of an individual's taste, and the fundamental framework of any new scheme of decoration.