Behind the Scenes of our May Photo Shoot
Bringing inspirational photography to you via our website and also through our brochures requires a little bit of planning and a whole lot of hard work and fun!
This recent shoot is a true celebration of all Vanessa's designs over the last 22 years…this time combining the early fabrics with the new.
Read on for a little insight into what goes on behind the scenes and some photos of fabric from our latest ranges.
Here's how we take photos of fabric for our catalogues and website product pages.
In the beginning
Firstly a suitable location house in chosen: it's really all about interesting windows, beautiful floors, natural light and enough room to be able to stand back and take the photos
This May, our location was an elegant Georgian house, chosen mainly for its large sash windows, natural stone, wooden floors and painted wooden panelling. The next task was to choose the areas of the rooms to capture, taking photographs to remind us once we are back in the office, and most importantly measure the windows to make blinds and curtains. Sally, our stylist then produces beautiful hand drawn detailed sketches of the final scenes, which we work from.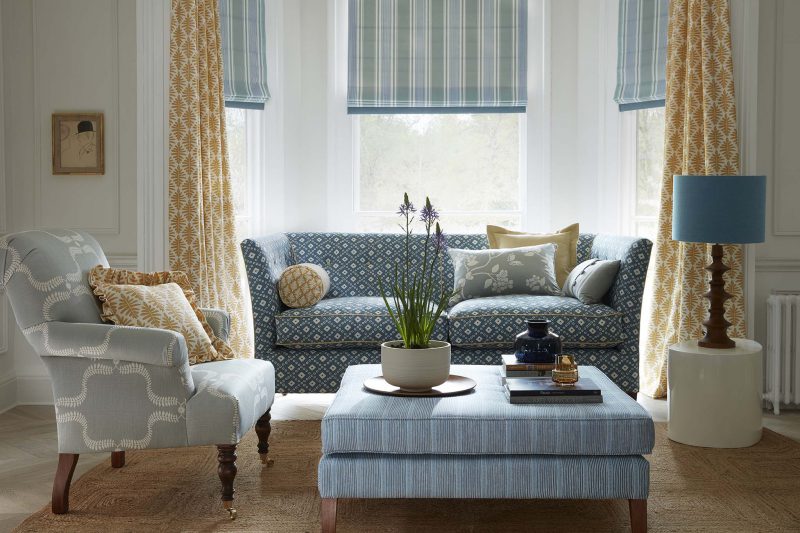 Next, Vanessa and Sally decide which fabrics, wallpapers and furnishings to use in each shot, balancing colour, form and texture. This process is really not that dissimilar to painting a still life!
The team back in the office then has the job of ensuring sofas, cushions, lampshades, headboards and any other piece of bespoke furniture are made up in time for the shoot day and need to arrive at exactly the right time. These pieces often find their way into one of our sales at eye wateringly reduced rates so do keep checking the website.
Gathering the team
We are very proud of our creative team, they are really the best: Sally our expert stylist, Mark, our brilliant photographer, Tim the forever helpful set builder, their assistants and of course Vanessa. They all work tirelessly and effortlessly over the space of a few days to bring beautiful photography to you.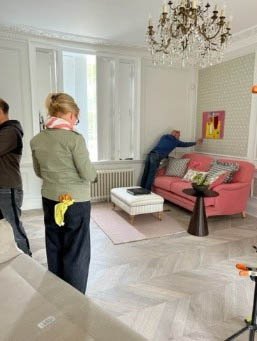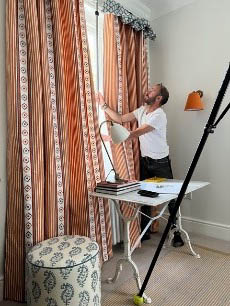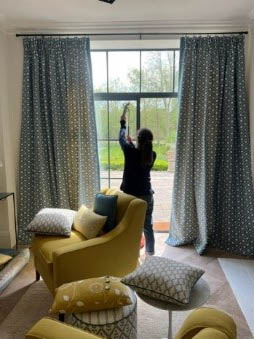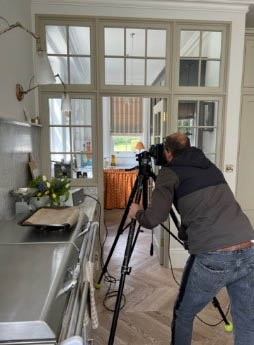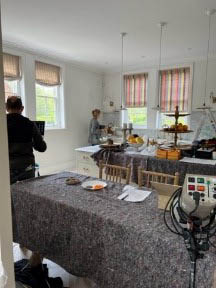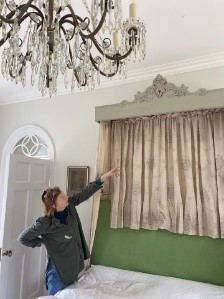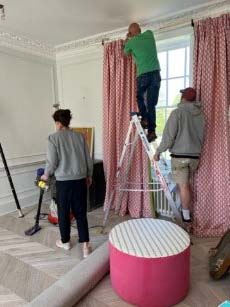 On the day
Fast and frantic but fun! See here on our Instagram highlight, 'Photo shoots'.
Some of the sketches and scenes…
Blue & Yellow Snug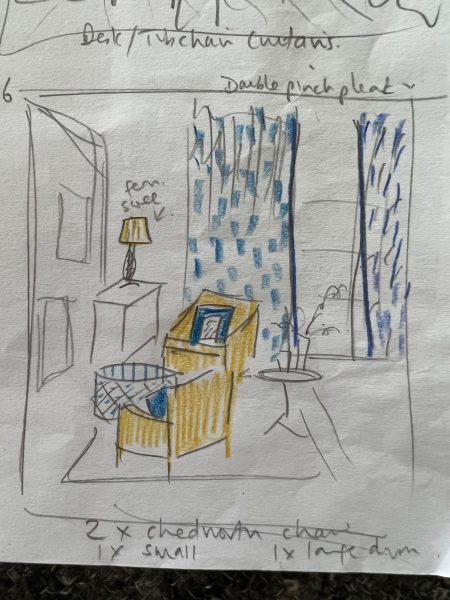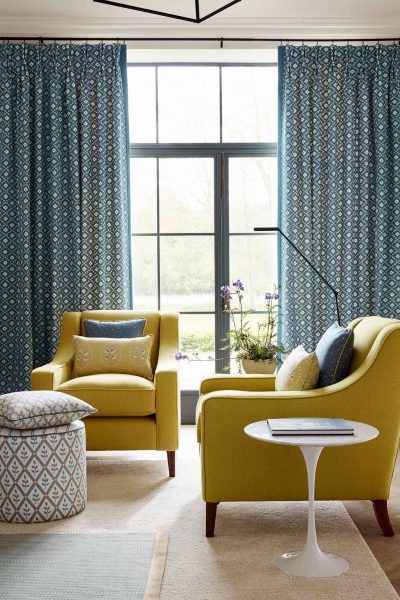 Two Chedworth Armchairs (new product) in Plain Linen – Saffron, with curtains in Sow & Scatter – Cornflower, and small Circular Pouffe in Lattice Leaf – Scree, Cornflower.
Duck Egg & Orange Kitchen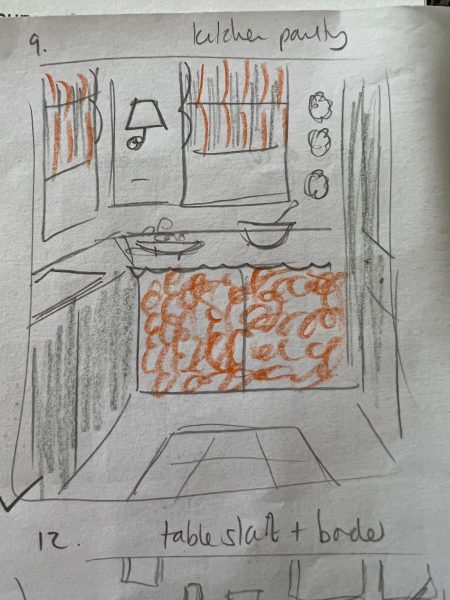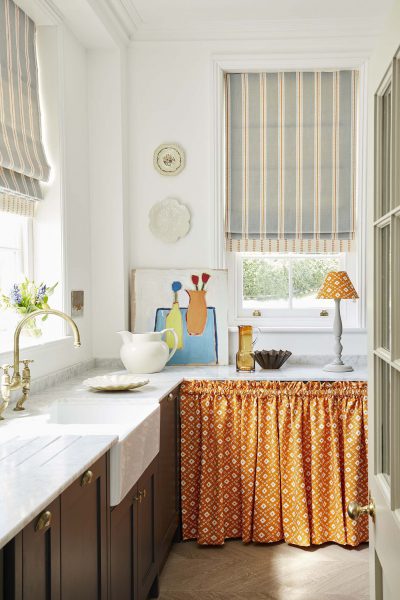 Roman Blinds in Stockholm Stripe – Duck Egg, Pumpkin, Winter, with an Empire Lampshade and under unit skirt in Sow & Scatter – Marigold; the orange picks up the Simple Ticking Detail – Marigold, in the bottom border of the blinds.
Pink & Blue Sitting Room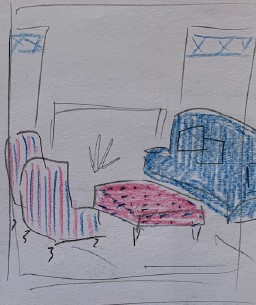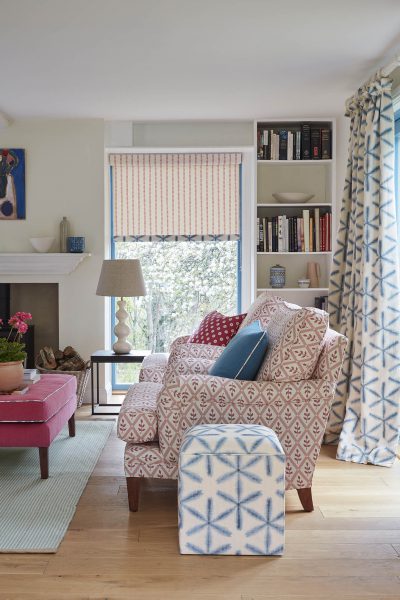 Roller Blinds with matching pelmets in Simple Ticking Detail – Sweet Pea, with bottom border and Cube Footstool in Japonica – Indigo. The Amberley Footstool in Plain Linen Union – Sweet Pea, works well with the pinks in the Lattice Leaf- Lily Pink, Mallow on the chairs.
Orange & Blue Home Office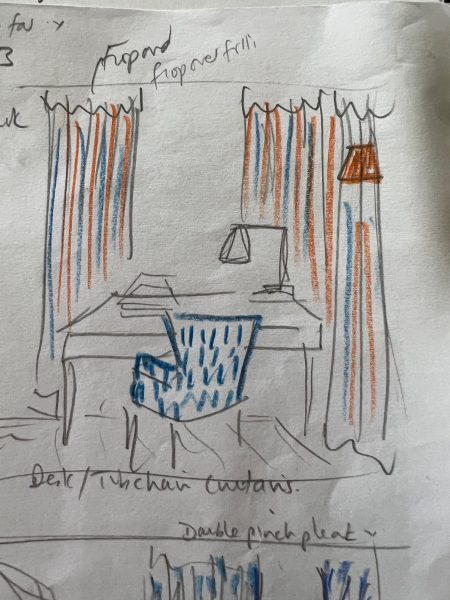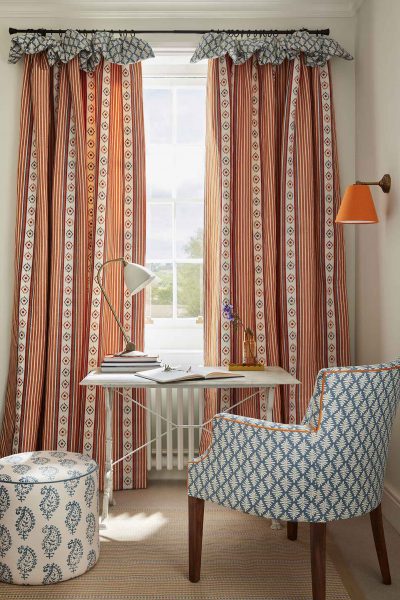 An embroidered fabric on the curtains in our Malmo – Carrot, Cornflower, Cranberry, with Tub Chair in Little Fern – Cornflower, and small Circular Pouffe in Life & Eternity Detail – Cornflower.
Green & Blue Bedroom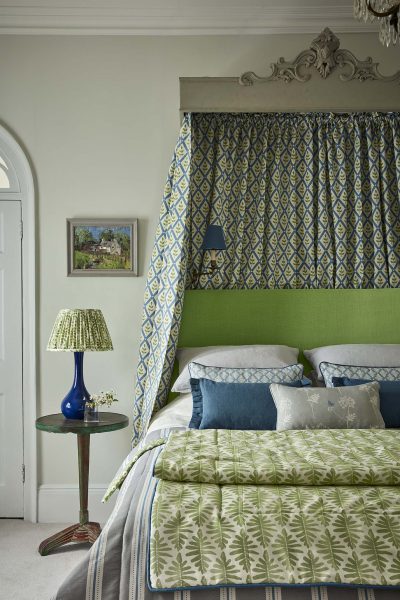 Bed curtains in Lattice Leaf – Soft Cornflower, Moss, with Pleated Lampshade & Quilt in Wild Fern – Moss, piped in Plain Linen Union – Cornflower to match with the cushions and tie in with the lampshade.
Pink & Pigeon Sitting Room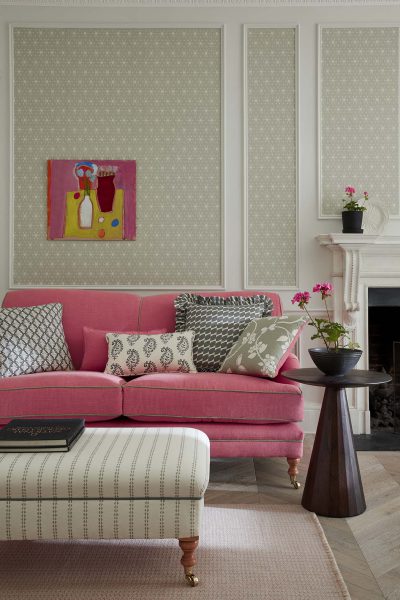 A Traditional Sofa in Plain Linen Union – Soft Raspberry, with Ashcroft Footstool in Simple Ticking Detail – Pigeon, and Wall Covering in Shibori – Light Pigeon.
Rose Arbuthnott Paintings
Vanessa always brings a selection of her daughter's latest paintings, this time its still lives, each one found a place in the new scenes, by chance mirroring the colours in the soft furnishings. It's irresistible not to include these paintings, as they give each room a completely unique and contemporary look.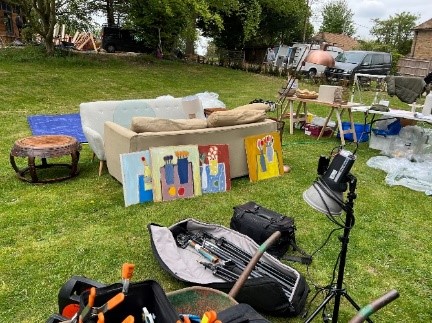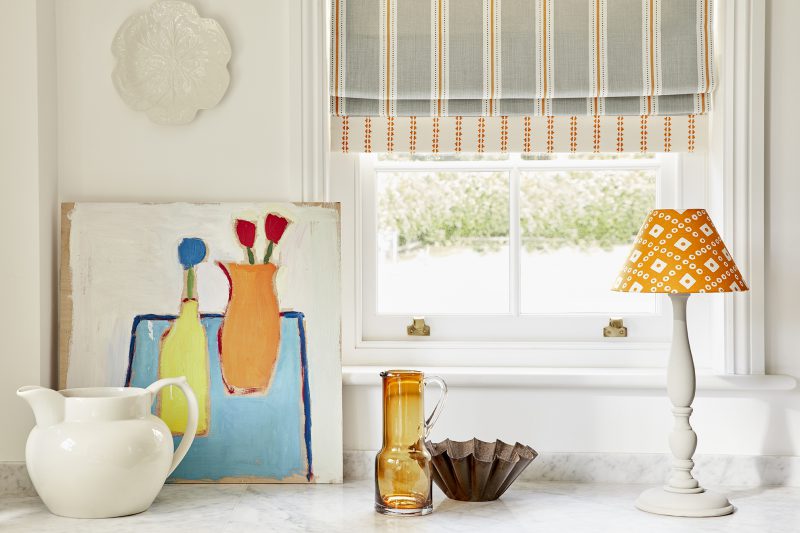 These bold, joyful and inspiring paintings are for sale along with others, take a look at the shop on Rose's website.
They can bring a whole new splash of colour and a beating heart to any room.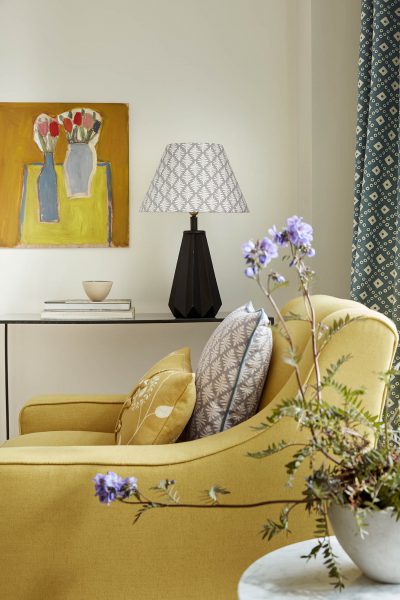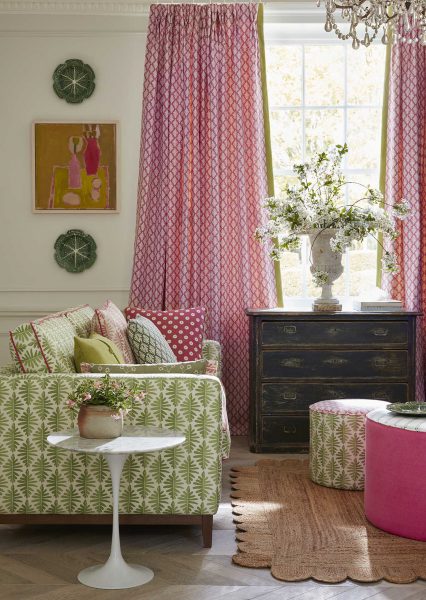 Please be inspired by the numerous photos we have gathered together from years of photo shoots, collated on our website and grouped together by room, bedrooms, kitchens and halls, for instance. See INSPIRATIONAL PHOTOGRAPHY.