When to choose curtains and when to choose blinds…it's an interesting dilemma.
In a room with many windows you don't want to have curtains is every window, neither do you want to have blinds in every window so having a mixture can be the best answer. Hang soft, warm, luxuriant curtains in windows where they have room to breathe. This could be French doors or the largest window in the room, then hang blinds in smaller less accessible windows. It is best not to have more than 2 big pairs of curtains in one average sized room… it's a real visual balancing act. A large scale pattern like Songbirds (below in Buttercup, Clay and Charcoal) lends itself really well to big windows.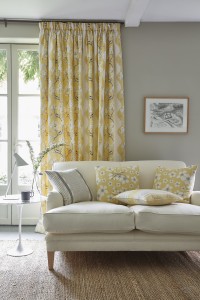 The other plus of a mixture of two window treatments, is that you can use more than one pattern: maybe stripes or spots on the blinds and a larger scale pattern for the curtains. Too many blinds and no curtains can create a plain and less cosy feel. Curtains are also brilliant at helping to reduce noise levels in a room as they literally absorb sound: especially useful in a dining area where people can get vociferous! Here I have used a Plain Linen in Dove for roman blinds which provide a subtle backdrop for the full length curtains in Simple Ticking Detail in Charcoal.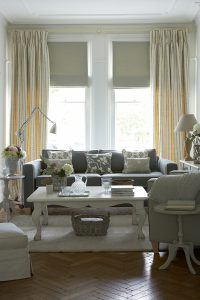 If you have radiators under windows try an interlined roman blind and curtains. You can drop the blind when the radiator is on and you still have the lovely softness of curtains to draw when the radiators are turned off.
In the room below, I have teamed Up the Garden Path in Mushroom for the blinds with a Pretty Maids design in Mushroom, Teal and Winter.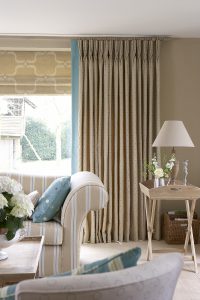 We can make all of your blinds and curtains for you, exactly as you'd like them. Have a look at our range of made to measure items here…