Meet the Maker – Lollipop Lampshades
Community & Creativity
We thought it would be nice to introduce you to some of our incredibly talented and it turns out modest, makers; to give you a little more insight into who and what goes into producing some of our products, starting with lampshades.
We pride ourselves on working with trusted, local, specialist and highly skilled craftspeople to make all our bespoke furniture and furnishings and would like to show our appreciation for them here. A shout out if you like.
These awesome artisans use traditional methods and take real pride in what they do. Vanessa says "I care deeply about what I make and how it is made, from sourcing sustainable fabrics to supporting my local community".
Not only does this bolster (pardon the pun!) employment within the community it also helps keep our carbon footprint to a minimum.
First up, Lollipop Lampshades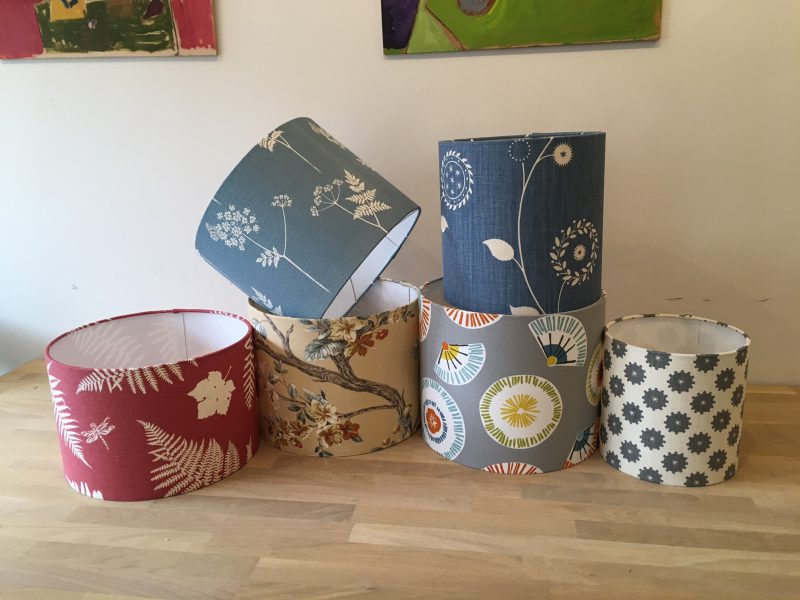 A word from the maker, Sarah.
"I began making lampshades in 2012, after being inspired by a small lampshade workshop I stumbled upon in a small village whilst on holiday in France. For the first few years I sold my shades at local craft markets, which are a great way to meet lots of potential customers, as well as other wonderful makers and sellers.
In 2016 I started to make lampshades for Vanessa's customers which is an absolute joy as Vanessa's team are is friendly and helpful. The fabrics are beautiful to work with, all produced in the UK, and I love seeing how the collections evolve each year. The colours and designs work so well together, and I really enjoy seeing the combinations customers choose to put together, so that each shade is truly unique.
I also run lampshade making workshops from the Bothy, next to Vanessa's showroom in Cirencester. These classes are starting again in June after a two-year break, for obvious reasons, so it will be lovely to welcome people back again."
Sarah's company is called Lollipop Lampshades. You can find her on Facebook and Instagram.
If you are short of time and would rather we did the work for you, then simply contact us directly or visit our website (link below), where you can order Candle, Empire, Drum or Pleated lampshades in Vanessa Arbuthnott fabrics of your choice.
The process couldn't be simpler. Our handmade lampshades are expertly created with meticulous attention to detail. For Drum and Empire lampshades can be made for a ceiling or for use with a lamp base. If you need guidance or assistance, we are pleased to help you over the phone or in our store; simply go to our contact page.
Types of Lampshades
Here are the types of lampshades available from Vanessa Arbuthnott.
Empire Lampshades (Including Candle Shades)
We offer a pair of small candle shades, as well as three larger Empire styles.
Measurements: Candle: Top Diameter 8cm x Height 13cm x Base 14.5cm.
Standard Empire – Small: Top Diameter 10cm x Height 17cm x Base 25cm / Medium: Top Diameter 15cm x Height 25.5cm x Base 40cm / Large: Top Diameter 20cm x Height 26cm x Base 40cm
Drum Lampshades
Because you can add more colour or pattern to your shade by using a contrasting fabric as the inside lining, our Drum lampshades are quite popular. They can be made for either lamp bases or ceiling pendant fixtures.
Measurements: Small: Diameter 20cm x Height 20cm, 25cm or 30cm / Medium: Diameter 30cm x Height 20cm, 25cm, 30cm or 35cm / Large: Diameter 40cm x Height 20cm, 25cm, 30cm, 35cm or 40cm / Extra Large: Diameter 50cm x Height 30cm – this size requires fabric to be joined and will have a seam.
Pleated Lampshades
The Pleated, with its high-quality finish and neutral cotton lining, is a new addition to our range (not made by Sarah).
Measurements: Small: 10″ – Top Diameter 15cm x Height 17.5 cm x Base 25cm / Medium: 12″ – Top Diameter 18cm x Height 20cm x Base 30cm / Large: 14″ – Top Diameter 20cm x Height 22.5cm x Base 35cm / Extra Large: 16″ – Top Diameter 25cm x Height 25cm x Base 40cm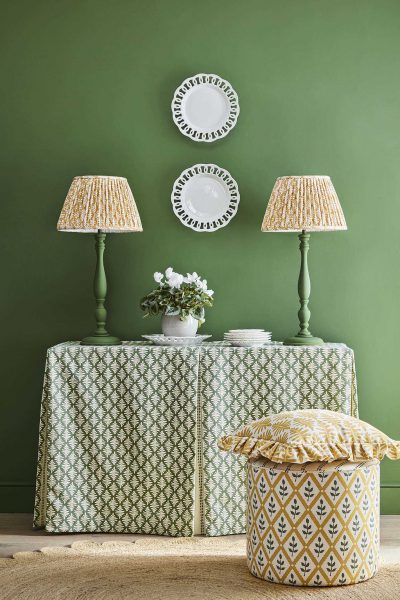 So, a massive thank you, Sarah – even if you were a little reluctant! "Yikes, I quite like to stay in the shadows!". We simply cannot let you get away with hiding – you deserve a mention!