THE BOTANICAL COLLECTION
I am thrilled to be able to introduce you to my new Botanical Collection of floral linens. All the fabrics are now in stock and looking for homes!It's a miracle that I have been able to produce and launch this collection.  By good luck and pure chance I spent the first two weeks of March, in the run up to lock-down, printing these new fabrics and recently have managed a one day 'socially distanced' photo shoot. There will be more photos to follow in October when things will hopefully be easier, but this is at least a start.
'Botanical' is a nostalgic collection, evocative of  elegant 'drawing' rooms and pretty florals of a bygone era. Imprinted in my memory are the bewitching chintz flower-patterned curtains hanging in my Granny's Irish house where we spent every summer holiday as children.
These designs are available in several delicate colour-ways reminiscent of the first 'indiennes' fabrics that came from Eastern India to Europe.  These softly coloured, hand-blocked and hand-painted cottons which were introduced into France from India at the end of the 16th century were immediately popular.
These recent months have allowed me time to reflect on the past: I have vivid memories of winning a 'tiny garden in a shell' prize (which I still have) for my pressed wild flower collection when aged 8. Studying closely the beautiful shapes of flowers and leaves has stayed with me and is expressed here in these new designs.
The Botanical Collection consists of 6 brand new designs, (along with 3 new colours of French Ticking), in a total of 27 colour-ways and is printed on a beautiful linen union woven in Scotland, using 60% linen and 40% organic cotton, and introduces a new colour, a beautiful Soft Raspberry.
In this collection I have combined and linked together many of my existing colours for example Lettuce with Pigeon and Soft Raspberry, Damson with Field Green and Clay, Hay with Smoke and Duck Egg and more.  All complimenting each other seamlessly.
THE DESIGNS:
Herbaceous Border Detail: a beautiful, printed botanical study: an array of varied large single flower heads simply arranged into an 'all over' print. Each flower has been hand drawn, carved from lino and then carefully printed onto the fabric, imparting the special marks of hand printing. The design was then moved onto 4 different silk screens for printing. It is available in 5 subtle colour-ways reminiscent of pretty sitting rooms and bedrooms of the last 100 years.
Colours of designs below, starting from left to right, top to bottom: Smoke, Teal, Limestone, Dove | Dark Hay, Smoke, Duck Egg, Dove | Dusky Pink, Plum, Kale | Damson, Lily Pink, Field Green, Clay | Soft Raspberry, Pigeon, Lettuce, Charcoal (full width below)
Herbaceous Border: this is the Herbaceous Border Detail design but in the 'negative'; cream flowers on a coloured background, creating two more contemporary and bold colour-ways: Soft Raspberry and Charcoal.
Colours of designs below, starting from left to right: Soft Raspberry, Charcoal (full width below)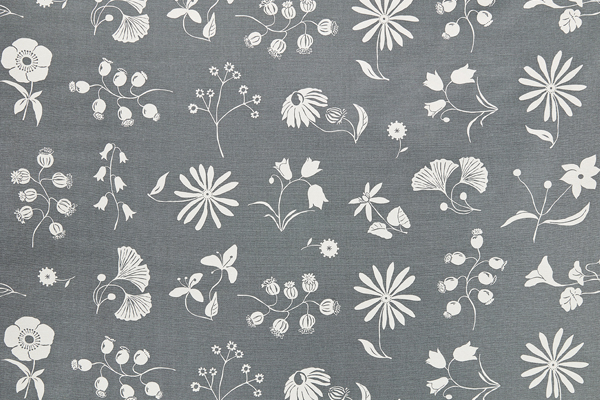 Dainty Daisy: here I have taken one of the pretty sprays of flowers from 'Herbaceous Border' and placed it in an almost 'Art Deco' repeat, to create a charmingly simple design. Printed in the positive and negative, it comes in 12 colour-ways from the softest Hay to Plum and Smoke.
Colours of designs below, starting from left to right, top to bottom: Plum, Soft Raspberry, Damson, Limestone, Field Green, Pigeon, Smoke, Dark Hay, Charcoal
Dainty Daisy Detail: this is the same pattern as Dainty Daisy but a positive version in three colours this time, creating a really gentle and delicate fabric.
Colours of designs below, starting from left to right: Smoke, Dove | Damson, Field Green | Dusky Pink, Kale
Floral Stripe: an enchanting stripe in 2 colour-ways reminiscent of huts I stayed in on family Alpine walks.
Colours of designs below, starting from left to right: Pigeon, Soft Raspberry, Charcoal | Damson, Charcoal
Fallow Deer: a delightful print depicting stylised deer and woodland trees. I originally drew and block printed this design, taking the same marks onto screens for ease of printing: deer are depicted standing by naively drawn trees and set within an ogee of trailing leaves and flowers.
Colours of designs below, starting from left to right: Cornflower | Dark Dove | Damson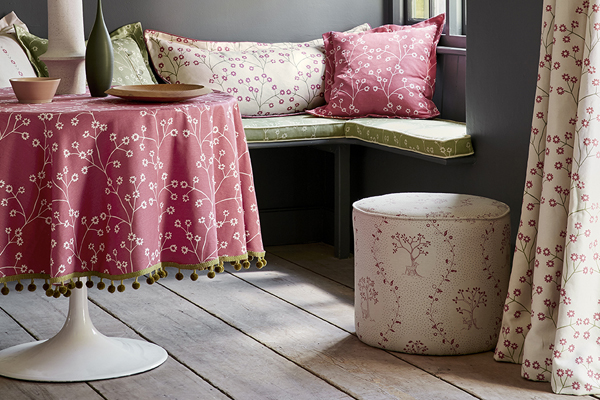 New colourways of French Ticking: this stripe is an old favourite and has been re-coloured to coordinate with these new prints: combining Field Green with Charcoal and Hay with Smoke and Charcoal.
Colours of designs below, starting from left to right: Field Green, Charcoal | Dark Hay, Smoke | Dark hay, Charcoal