Cottage Style – The Beauty of Cottages
What is a cottage?
Recently, having been asked to write about my views on 'Cottage Style'  for a magazine, I started thinking about the phenomenon of cottages, their interiors and also their history:
The country cottage is all about low-ceilings, exposed beams, stone flagged floors, sloping ceilings and small windows – the magic of cottages is undeniable. Originally built for workers the interior of a cottage should reflect their heritage, with rustic simplicity.
A cottage is meant to be lived in and to be enjoyed. Inside nothing needs to match, the overall effect being charming and comfortable. Anything 'found' in second hand shops and auctions or inherited, can be painted or recovered to help it fit into the scheme.
Cottage Sitting Rooms
In cottage sitting rooms the natural textures of wooden or stone floors, as well as brick or stone walls, bring interest and warmth to the space. In the sitting room below, the wooden floor, painted wooden beams and white-washed bricks behind the wood burner all combine to give this small country cottage sitting room a rustic and unique feel. A vase of roses, or any picked flowers from the garden or hedgerow, always make a room sing, as did the chance arrival of the lovely ginger cat whilst we were taking this photo!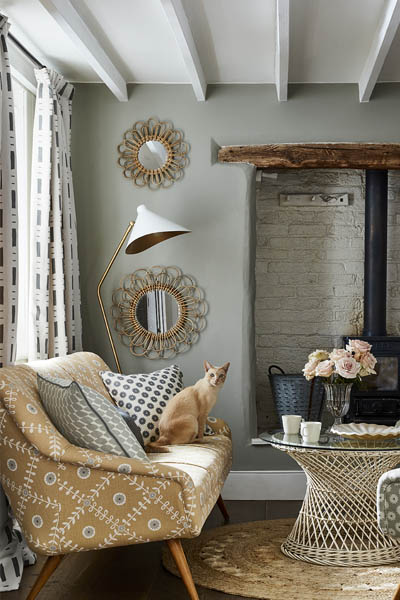 My Straw, Pigeon and Charcoal colourways complement one another perfectly in this little cottage sitting room. With the addition of modern lighting, interesting mirrors, a modern coffee table and my Calmsden chairs with their finely tapered round legs, a cottage sitting room has been taken on a more contemporary journey.
Choose round or square tapered legs for a more modern look and turned legs and castors for a traditional feel.
What are the common mistakes people make when trying to achieve a cottage look?
I would avoid too many heavy brown beams, especially dark brown ones. They can make rooms feel darker and the ceiling lower; softening them with lime wash or paint is preferable. Heavy dark coloured curtains are also to be avoided; light is so important, so make curtains that draw well clear of the windows or use roller blinds with pelmets.
Floors in cottages are often informal, uneven and imperfect; bare floors, covered with a rug or two are wonderful. I would definitely avoid wall-to-wall carpet which can be too perfect and not in the tradition of a cottage.
What fabrics should I choose for a cottage?
Light coloured fabrics with pattern on a cream background give a light and airy feel to a small room: examples are my Simple Ticking Detail (see below), Herbaceous Border Detail and Fruit Garden. I would combine a variety of prints: florals, dots, spots and very gentle stripes such as my Stripe and Dash. Fabrics such a Cow Parsley and Dainty Daisy are a good scale for cottage windows.
Do have a look at my new florals, just in time for Spring and Summer 2021, they are perfect for putting some TLC back into a tired cottage room. They have a cottage-core look, that is evocative of the country cottage and pretty florals of a bygone era with a fresh modern twist.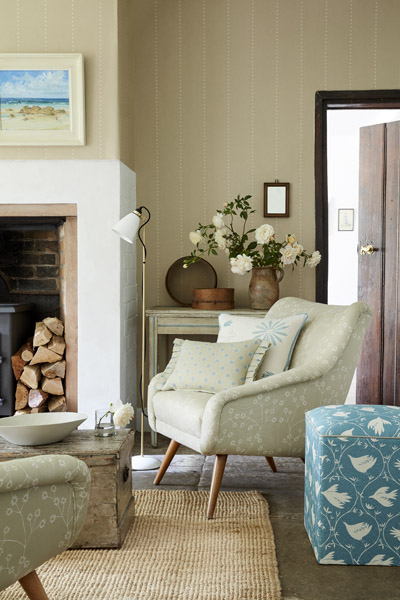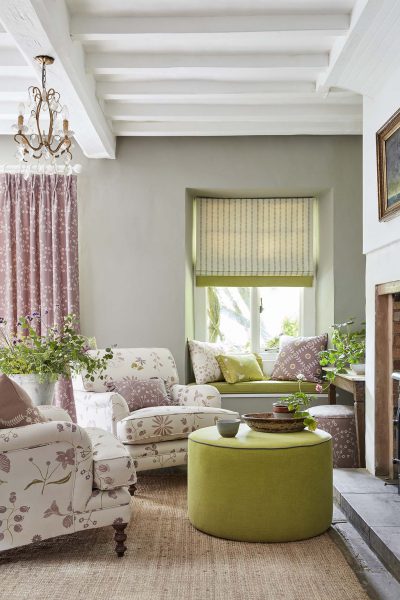 LEFT: This entrance hall has been made into a sitting room with neutral, light soft furnishings (Dainty Daisy in Limestone) and a jute rug to warm the old stone flags.
RIGHT: In a small sitting room try be sure to make the mos\t of a window seat. Dress the window with a light airy roman blind (Simple Ticking Detail in Kale) rather than curtains to create the space to sit. These walls are painted in Little Greene's French Grey.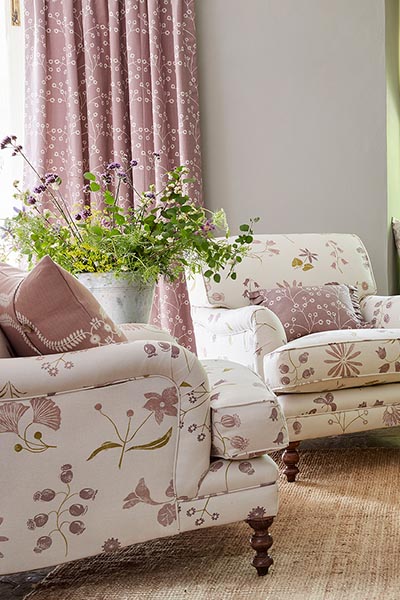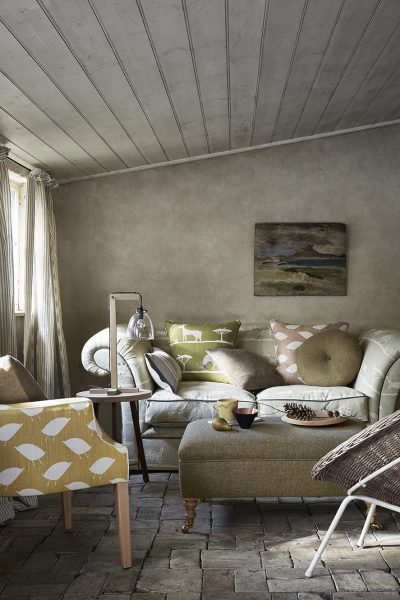 LEFT: My wonderful traditional cosy arm chairs to curl up in in front of the fire, are covered here in my Herbaceous Border Detail.
RIGHT: Cottages come with bucket loads of natural texture: timbered ceilings, brick, stone or wooden floors and unpainted walls. Here we kept the decor neutral with the cushions providing accents of gentle colour.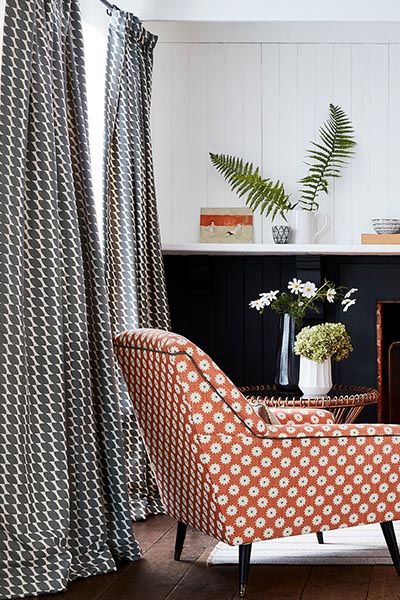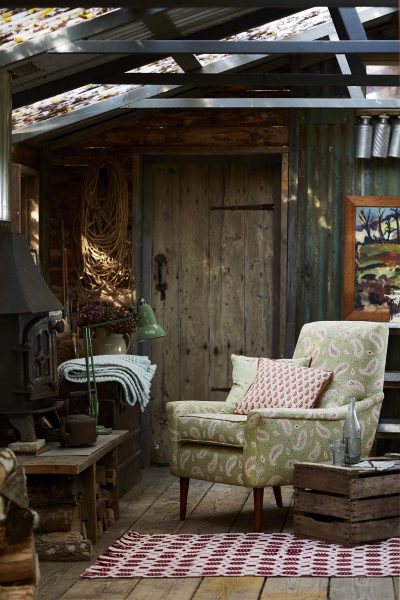 LEFT: This timber panelled Sussex cottage, with its dark wooden floors and an open fireplace is taken on a more modern journey with monotone curtains (Sepals & Petals) and a mid-century upholstered chair (May Blossom).
RIGHT: In this really rustic Sussex cottage with corrugated iron walls and old latched doors, the old fruit box makes a perfect side table. Greens and rusty red fabrics sit well with the wood in this room.
Cottage Hallway
What style of furniture works best in a cottage?
Ruggedly hewn furniture, antique picture frames, old fruit boxes, trinkets; old rustic wooden chairs and benches.
On the floor use rag rugs, jute or woven woollen rugs – see my rugs in the halls below.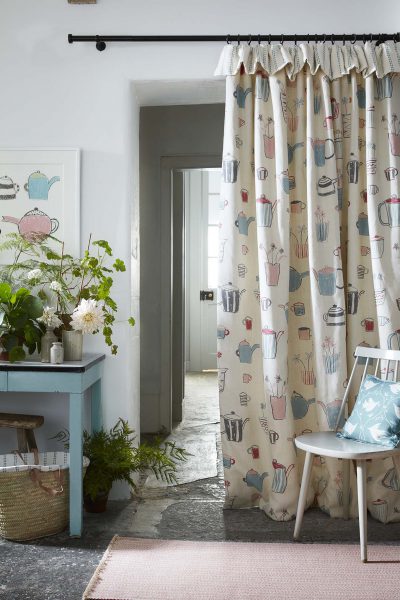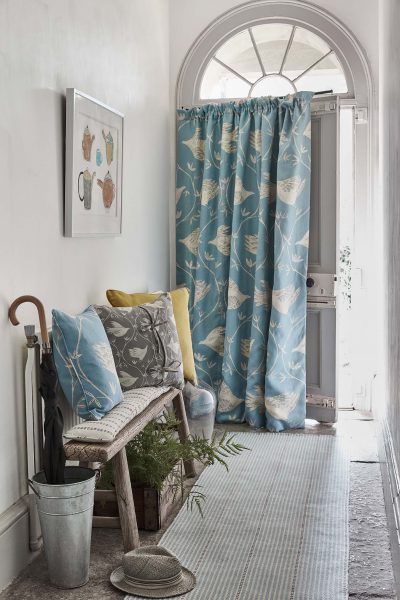 LEFT: This is a lovely old stone flagged floor in the entrance to a Georgian cottage and the jolly Tea Time curtain can be drawn to prevent drafts.
RIGHT: This door curtain is attached to the door frame and to the back of the door with a portiere rod, which is a very good way of managing a beautiful curtain (In Full Flight) in a small space with no pull back room.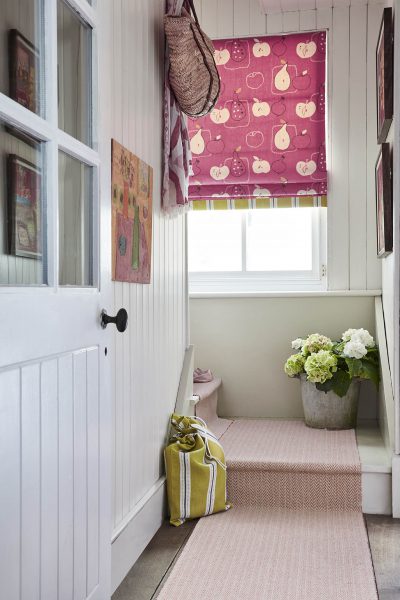 LEFT: A workroom in an old lean-to shed attached to a Suffolk cottage. Timber, bricks and wonderful large shelves in what was once a potting shed are all original and so atmospheric, making a really useful home office.
RIGHT: The hallway has been kept simple with white washed walls and a wooden floor. The pretty pink woollen stair runner keeps noise levels down, when going up and down the small winding stair case.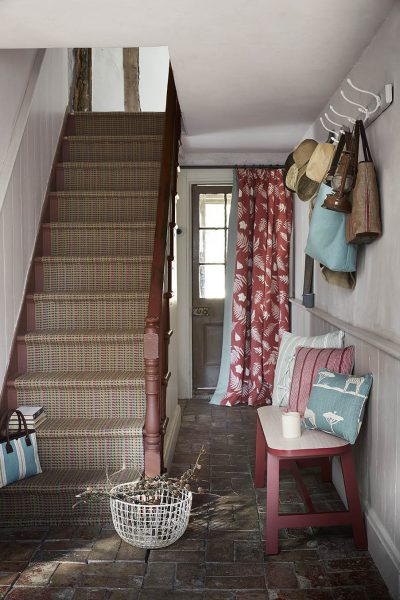 My Rainbow rug is a multi coloured stair runner, giving an earthy feel, is very forgiving of dust and dirt. A simple single Raspberry red curtain in Fern and Dragonfly, warms up the space and keeps the drafts out when drawn at night.
Colour choices for cottage kitchens – my favourite paint and fabrics at the moment…
If the room has wooden beams, consider painting them white or off-white, along with the ceiling, to give the room an airier and more spacious feeling. Just off-white walls such as Little Greene's Hollyhock or Farrow and Ball's Lime White, would work well.
Think about painting lovely old doors and wood work a soft colour, such as Farrow and Ball's Light Blue or Little Greene's Acorn. This colour palette could be used throughout the entire cottage to give a feeling of space and to visually link the rooms.
In a country cottage kitchen, I would keep the walls neutral, as colour can be effortlessly added with ceramics on dressers, tablecloths, napkins, seat pads, blinds and curtains.
Cottage Kitchen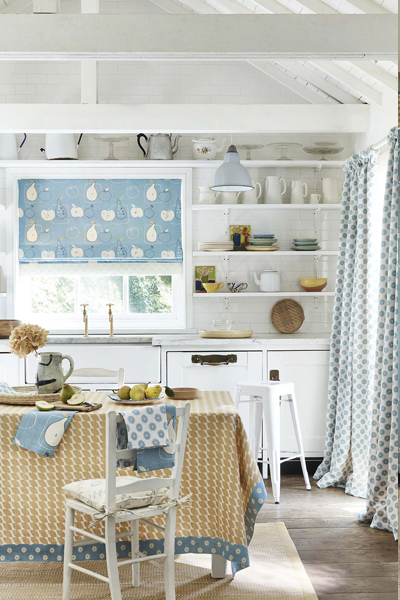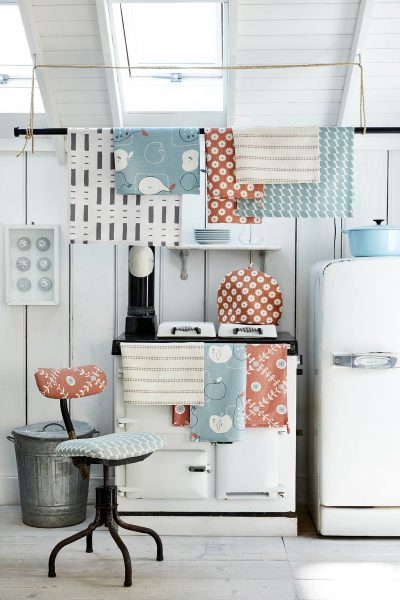 LEFT: The white walls create a simple backdrop for all the ceramic jugs and bowls, no fitted cupboards here. Simple one or two coloured fabrics reinforce the feeling of simplicity.
RIGHT: Vintage everything here! The white backdrop with Peach and Smoke blue fabrics adds fun and warmth to the space.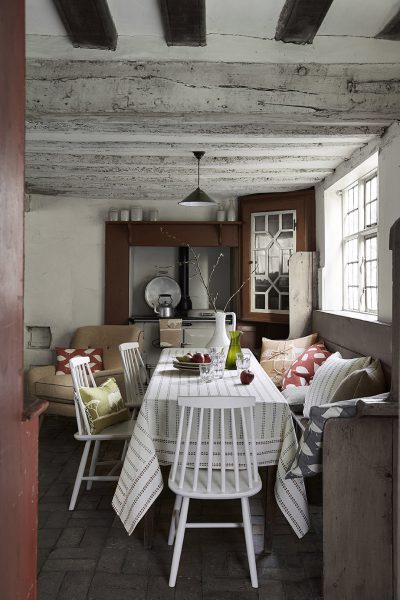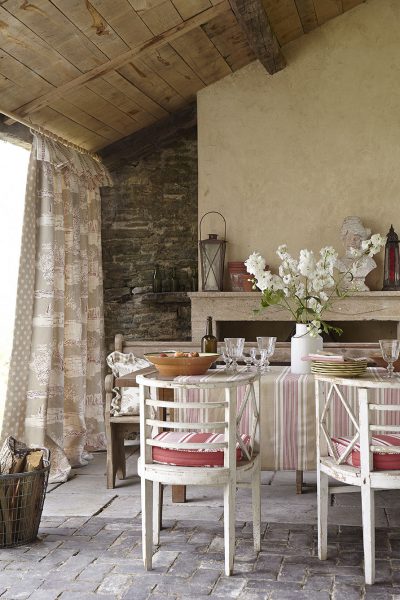 LEFT: In this cottage the beams have been lime washed making them a little less oppressive. Here we have used fabrics in the gentle tones of charcoal, green and rust to tone with the original brown paint colour on the cupboards.
RIGHT: A rustic cottage dining room with exposed stone walls and a planked wood ceiling. My Mushroom colour in the French Ticking tablecloth reflects the tones on the walls and wood.
Cottage Bathrooms
Cottage country bathrooms can have a light and airy feel, with painted wooden floors and free standing baths. The yellow and grey botanical fabrics bring the countryside into this bathroom and the pretty striped frill around the sink softens and warms up the space too.
Fresh garden or hedgerow flowers are a must and can mark the difference between urban and country living.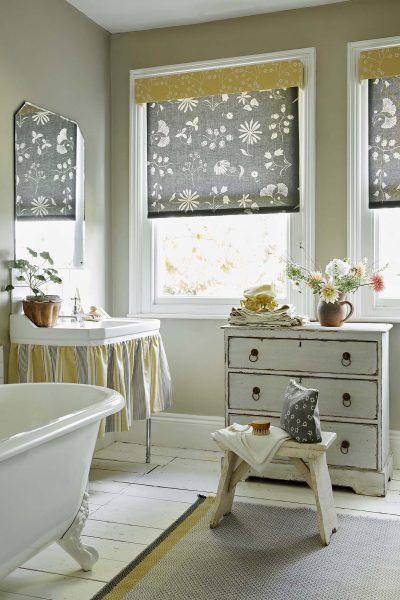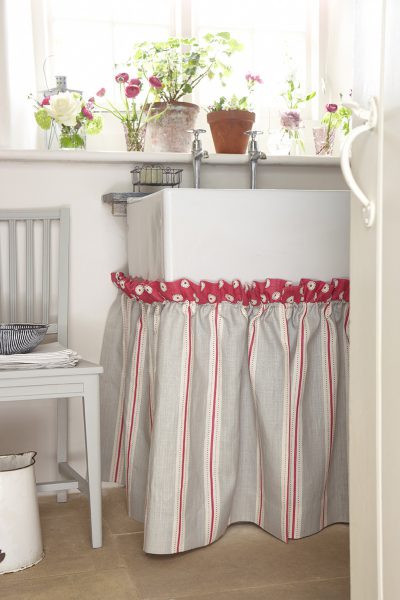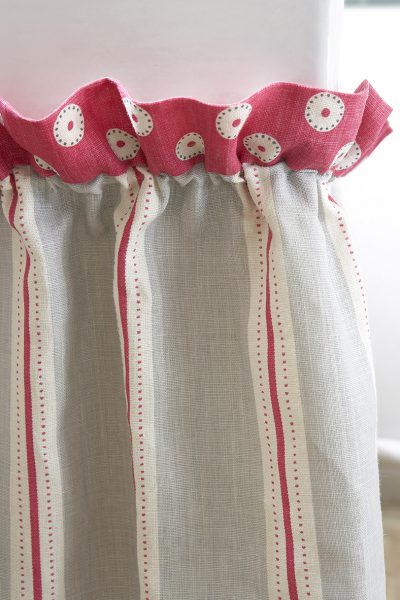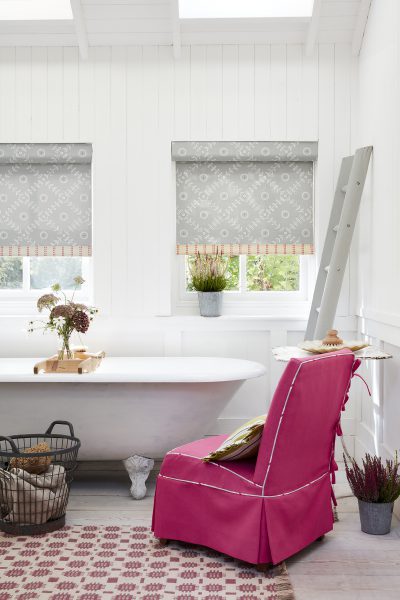 SECOND FROM LEFT: The soft frill in Stockholm Stripe around this basin with its Sweet Pea border looks wonderful in this cottage cloakroom.
SECOND FROM RIGHT: Delicate Pretty Maids border hides the gap between the fabric and the base of the Belfast sink.
RIGHT: These pretty Fruit Garden roller blinds in Clay and Sweet Pea, with pelmets to hide the rolls, sit snuggly into these window recesses.
Cottage Bedrooms
The bedroom can be challenging to decorate, often squeezed into small spaces and nestling under steep rafters. A lack of storage and little room to manoeuvre can be serious practical issues, but their charm is undeniable.
Colour choices for cottage bedrooms – my favourite paint colours at the moment.
As in the other rooms of your cottage, if the room has wooden beams, consider painting them in with the ceiling, this will give the room an airier and more spacious feeling. Just off-white walls such as Little Greene's Hollyhock and white ceilings and would work well.
Different coloured fabrics could then be incorporated to define each room: a colourful fabric covered headboard, bed quilt or vintage eiderdown are in keeping with cottage tradition.
Fabrics I would use in a cottage style bedroom.
Simple small scale patterns, spots, dots and tickings all look wonderful.  A perfect example is the beautiful photograph at the top of this newsletter of the white, blue and red attic bedroom.
Pretty Maids and May Blossom really suit small windows as does my new Fallow Deer.
Florals are back in a big way, use them to create a soft and pretty bedroom that's a joy to wake up in. Include some rustic wooden furniture such as a bench to put your clothes on, a simple bedside table, rather than brown mahogany etc. Wooden floor boards with a simple colourful woven rug or sisal or jute matting will keep true to the roots of the cottage.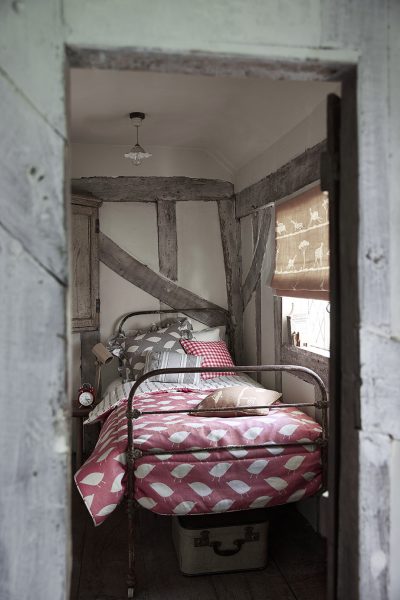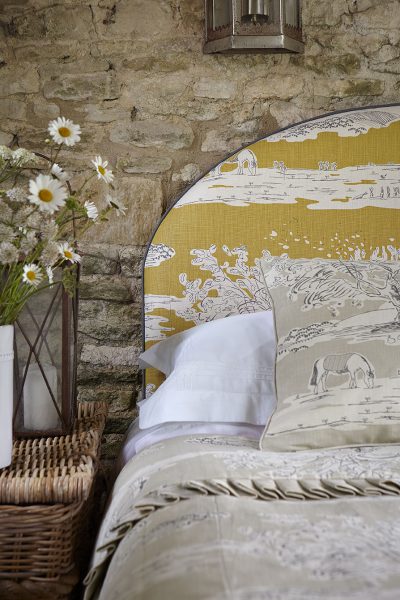 LEFT: This sweet child's bedroom is squeezed into a small space in this cottage, with its lovely old metal framed bed. This colourway of my Bird Hop and Wild & Free are discontinued but are available in lots of other colours.
RIGHT: Embrace the natural beauty of brick and stone by paring back your walls to reveal what's underneath. My For the Love of Rose design, with its story of a Bohemian couple, sits very happily against this natural stone wall.
What's new in cottage decorating style?
If you are looking for a less traditional feel in a cottage, paint the walls with darker colours and introduce pops of colour with throws and cushions. My favourite paints at the moment are blues and greys, (F&B Chinese Blue or Little Greene's French Grey) with accents of brighter hues such as Saffron or Sweet Pea in the fabrics on chairs, cushions etc.
Walls painted with a beautiful colour combined with lighter curtains such as my Simple Ticking Detail would look very simple and understated. You could add in some panelling if the cottage walls are dry.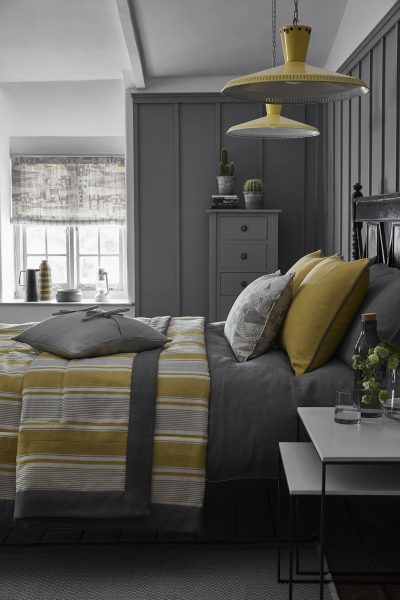 Please send me photos of your cottage and share any interesting decorating ideas. I would love to see how you have used my fabrics and wallpapers in your cottage setting!
Very best wishes and keep well.
Vanessa