Made to Measure Green, Bird Print
Roller Blinds
What green fabrics do you have for making made to measure roller blinds?
Green's calming effects may be due to its associations with nature, which people often feel is relaxing and refreshing. Read More...
Help & More
Get 5 Free Samples
Additional samples are £1 each. £1.50 P&P for UK residents.
Returnable Sample
Buy half a metre of fabric which is refunded on return within 30 days in good condition
Let's get started by selecting your fabric…
There are 4 Roller Blind fabrics to choose from (Page
1
of
1
)
There are 4 Roller Blind fabrics to choose from (Page
1
of
1
)
Made to Measure Roller Blinds
What green fabrics do you have for making made to measure roller blinds?
Green's calming effects may be due to its associations with nature, which people often feel is relaxing and refreshing.
We find ourselves craving the greens of nature. If we can't get enough of green outside, then the fresh reassurance of any shade of green can help to provide a little serenity and calm in our homes.
It is worth noting that green is not a primary colour, but a blend of blue and yellow on the visible spectrum. Yellow predominates in vibrant, fresher greens, where dark blue and sometimes even black, can be added for a richer evergreen palette
My greens from the greens with the most yellow to those with more blue and black mixed in with hem are called: Lime, Apple Green, Kale, Field Green, Water and, Smoke and the darkest of all three is Lichen.
The designs with small prints are Pretty Maids and Dainty Daisy; stripes are Stockholm Stripe, Simple Ticking and French Ticking.
Large prints for those big windows are Up The Garden path, Fern and Dragonfly.
What colours should I use to go with my green roller blinds?
This depends on the tone and shade of the green but the following colours are a good starting point:
Orange, pink, dark blue and plum.
I have paired my beautiful kale green with Damson pink and Plum in my Fruit Garden designs.
My Lime green is a brighter fresher green and I have mixed this with a brighter Sweet pea pink and also dark Charcoal grey.
Warm-green walls have a fresh look when paired with natural cream linen curtains, edged in green of contrasting colour, or made from our new fresh Herbaceous Border Detail fabric.
Each bespoke blind is beautifully made in our local workshops by professionals, hand finished with great care and attention. Our makers use traditional methods and take a real pride in what they do. With made-to-measure, there is no need to compromise; you can create a unique look with your choice of fabric and those important finishing touches that will complement and co-ordinate your home.
PROS FOR CHOOSING ROLLER BLINDS:
GOOD FOR INSIDE A RECESS – if you are looking to fix a blind into a recess, roller blinds are the perfect choice and why not add a pelmet to hide the roll? With roller blinds you have complete control over how much material covers the window. This is especially a good feature if you have smaller windows.
MAXIMUM LIGHT – if you want to allow in as much natural light as possible, roller blinds may be the better option over roman blinds. With roller blinds, the fabric rolls up at the top of your window and will take up about 9 cm of space.
CENTRAL PULL – with a roller blind you can have a central pull which can be handy on a window behind the kitchen sink.
LOWER MAINTENANCE – once you have pulled up a roman blind you sometimes have to handle the folds as they can get caught in the cords, you don't have this problem with roller blinds.
NEW – ROLLER BLIND PELMETS – If you have your blind in a recess, you can now choose to have a smart pelmet made with it which covers the 'roll', is pattern matched to the main blind and is approximately 11 cm deep. This has revolutionised the use of roller blinds, making them much more attractive and so usable in all rooms of a house!
Also if you can't reach the top of the window at all easily, a roller blind with a pelmet to hide the roll might be the right choice as you will have no need to reach to the top ever…maximum size for roller and roman blinds is 240cm x 240cm
BOTTOM BORDER: Think about using a contrasting colour for a border on the bottom edge of the blind, to add some interest.
All these can be made for you through our Made to Measure service. You can order your made to measure curtains, blinds and cushions straight from our website. The online guide will help you measure your windows for blinds. Watch the short video to the left to help you to make your decisions; you can also pop into my showroom to see my full range
All these fabrics are printed in the UK on a good weight of 100% Linen and Linen Union and are suitable for curtains, blinds, cushions, lampshades and upholstery. We hold a good stock of all our fabrics ensuring delivery is usually within 3-5 working days with an overnight service available. The same team, who take you order will roll, inspect and cut it, so accuracy and quality can be assured.
How to measure up for your Roller blind: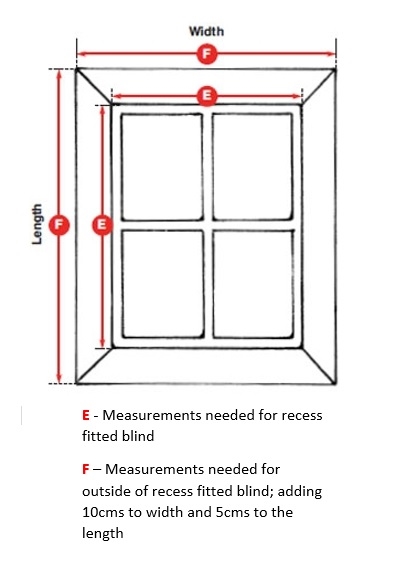 Inside a window recess
Width: Measure the width of the recess from the left to the right (see E on the diagram)
Length: Measure from the top of the recess to the bottom (see E on the diagram)
YOU ONLY NEED TO PROVIDE US WITH THE FULL RECESS MEASUREMENT - the maker will allow for the rolling mechanism when making the blinds (There will be a gap of about 1.5cm between the fabric and the recess wall which will allow some light through, even with a blackout lining)
Outside a window recess
Width: Measure the outside of the window recess (see F on diagram) and add at least 5cms on each side to minimise any light leaking through.
Length: Measure from the required position above the window (we recommend adding at least 5cm), to the length you require (see F on the diagram)
This also applies to blinds that will be fitted to the outside of a door recess, we only need the width and length that you would like the finished blind to be.
Please note that if your roller blind is outside the recess, we have to allow for the mechanism at either side of the roller blind, which is usually 1.5cm each side. For example, if you want the fabric width of your blind to measure 100cm, you need to specify this upon placing your order otherwise our makers will assume it is the finished width, and cut the fabric down to 97cm with the remaining 3cm for the mechanism, i.e. 100cm full fabric width + 3cm for mechanism, making the finished width 103cm.
Your Roller blinds will be delivered ready rolled complete with fittings.