Made to Measure Spotted
Roller Blinds
Spotted Fabric
More than any other pattern, spotted fabrics have a natural freshness that can lift any scheme in seconds. Be it traditional or modern, bedroom or bathroom, by adding a wall of spots or covering a favourite chair in circles, your home will take on a charming, classic vibe that will never date. Read More...
Help & More
Get 5 Free Samples
Additional samples are £1 each. £1.50 P&P for UK residents.
Returnable Sample
Buy half a metre of fabric which is refunded on return within 30 days in good condition
Let's get started by selecting your fabric…
Made to Measure Roller Blinds
Spotted Fabric
More than any other pattern, spotted fabrics have a natural freshness that can lift any scheme in seconds. Be it traditional or modern, bedroom or bathroom, by adding a wall of spots or covering a favourite chair in circles, your home will take on a charming, classic vibe that will never date.
Spotted patterns are timeless.
One of my most popular spotty fabrics is my award-winning Pretty Maids, (House and Garden award). This comes in many, many colours and coordinates with most of my main designs, we makes many roller blinds rom this design, it is easy to use and timeless.
Plain Dotty has a very subtle and dainty spot, which makes it a suitable blind fabric too.
In my May Blossom, spot fabric, the spots are made from an organic seed head shapes. There are 7 colourways including wonderful colours such as Peach and Plum.
What is your spotted fabric best used for?
Spots are undeniably fresh and fun, so are perfect for roller blinds for all rooms in a house. This is a lovely gender neutral choice for children's rooms too, that can be given a spirited touch with colourful accents as the child grows. My spotted fabric is a timeless choice for curtains and Wall Coverings, such as Spotty Stripe and Pretty Maids - we can make blackout blinds and curtains from our spotty fabrics.
Feel free to dabble with spotty fabrics, armchairs can be given a smart makeover, this is a versatile way to add spots, too, as the piece can be moved from room to room as and when you choose. Spotty window seats, cushions and bed quilts are always a success.
Don't keep spots and dots simply for the younger members of the family, as dotty fabrics and wallpapers can add a grown-up blast of chic,
What colours and design options work best with your spotted fabric range?
Yellow spotted fabrics can add energy to any room in the house. Spots work effortlessly with all sorts of my other patterns, including florals, checks and stripes.
For your walls my Spotty Stripe Wall Covering and Pretty Maids Wall Covering are perfect, friendly and timeless.
PROS FOR ROLLER BLINDS:
GOOD FOR INSIDE A RECESS – if you are looking to fix a blind into a recess, roller blinds are the perfect choice and why not add a pelmet to hide the roll? With roller blinds you have complete control over how much material covers the window. This is especially a good feature if you have smaller windows.
MAXIMUM LIGHT – if you want to allow in as much natural light as possible, roller blinds may be the better option over roman blinds. With roller blinds, the fabric rolls up at the top of your window and will take up about 9 cm of space.
CENTRAL PULL – with a roller blind you can have a central pull which can be handy on a window behind the kitchen sink.
LOWER MAINTENANCE – once you have pulled up a roman blind you sometimes have to handle the folds as they can get caught in the cords, you don't have this problem with roller blinds.
NEW – ROLLER BLIND PELMETS – If you have your blind in a recess, you can now choose to have a smart pelmet made with it which covers the 'roll', is pattern matched to the main blind and is approximately 11 cm deep. This has revolutionised the use of roller blinds, making them much more attractive and so usable in all rooms of a house!
Also if you can't reach the top of the window at all easily, a roller blind with a pelmet to hide the roll might be the right choice as you will have no need to reach to the top ever…maximum size for roller and roman blinds is 240cm x 240cm.
BOTTOM BORDER: Think about using a contrasting colour for a border on the bottom edge of the blind, to add some interest.
All these can be made for you through our Made to Measure service.
All these fabrics are printed in the UK on a good weight of 100% Linen and Linen Union and are suitable for curtains, blinds, cushions, lampshades and upholstery. We hold a good stock of all our fabrics ensuring delivery is usually within 3-5 working days with an overnight service available. The same team, who take you order will roll, inspect and cut it, so accuracy and quality can be assured.
How to measure up for your Roller blind: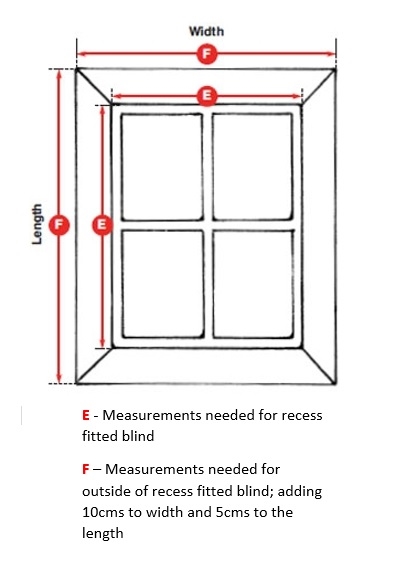 Inside a window recess
Width: Measure the width of the recess from the left to the right (see E on the diagram)
Length: Measure from the top of the recess to the bottom (see E on the diagram)
YOU ONLY NEED TO PROVIDE US WITH THE FULL RECESS MEASUREMENT - the maker will allow for the rolling mechanism when making the blinds (There will be a gap of about 1.5cm between the fabric and the recess wall which will allow some light through, even with a blackout lining)
Outside a window recess
Width: Measure the outside of the window recess (see F on diagram) and add at least 5cms on each side to minimise any light leaking through.
Length: Measure from the required position above the window (we recommend adding at least 5cm), to the length you require (see F on the diagram)
This also applies to blinds that will be fitted to the outside of a door recess, we only need the width and length that you would like the finished blind to be.
Please note that if your roller blind is outside the recess, we have to allow for the mechanism at either side of the roller blind, which is usually 1.5cm each side. For example, if you want the fabric width of your blind to measure 100cm, you need to specify this upon placing your order otherwise our makers will assume it is the finished width, and cut the fabric down to 97cm with the remaining 3cm for the mechanism, i.e. 100cm full fabric width + 3cm for mechanism, making the finished width 103cm.
Your Roller blinds will be delivered ready rolled complete with fittings.