Meet the Maker – Taylors Upholstery
Are you sitting comfortably?
Next up in our Meet the Maker series is our super star upholsterer, Taylors Upholstery. Jo Taylor heads up a small team of highly skilled craftsmen with a keen eye for detail and together they create our made to measure pieces of furniture with meticulous attention and great care.
Taylors manufacture a wide range of beautiful furniture, from the very traditional (horsehair and hand tied coil springs) to more modern pieces (foam) and they specialise in headboards.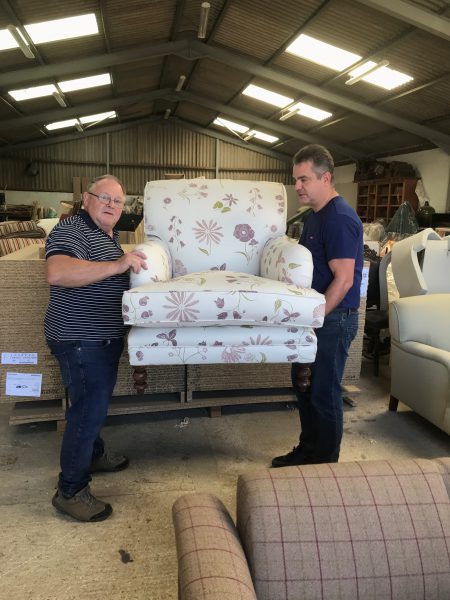 A word from Jo
"I have been working with Vanessa and her team for well over a decade. The furniture we make for Vanessa is of the highest quality, each bespoke piece comprises of a beechwood frame and is upholstered by an individual member of the team from start to finish. Vanessa's unique fabric designs are a pleasure to work with and epitomise country chic."
Made to Measure
Our furniture frames are traditionally handmade in Gloucestershire using solid beech from managed forests. They are then beautifully upholstered by Jo using hand-sprung seats in a small Cotswold workshop only two miles away, ensuring our carbon footprint is kept to a minimum.
Read on for examples of the beautiful pieces of bespoke furniture we offer.
Headboards
Why not invest in one of our headboards and add a touch of luxury to your bedroom? Available in three different styles, all of which include piping in the same or contrasting fabric. "I love the way piping frames the fabric design, can coordinate with the other colours in the fabric or room and at the same time accentuate the beautiful shape of the headboard." Vanessa.
Left to Right: Rectangular Headboard in Gypsy Garland – Cornflower / Rounded Headboard in Dainty Daisy – Charcoal / Sculptured Headboard in Wild Fern – Soft Cornflower , Speedwell.
Sofas
Left to right: Traditional Sofa. Timeless and very comfortable. This model can be ordered with two back cushions for extra comfort and support. Fruit Garden – Damson, Light Kale, Winter / Chedworth. Available in 4 sizes and has the choice of 80cm or 90cm depth. Plain Linen – Oyster.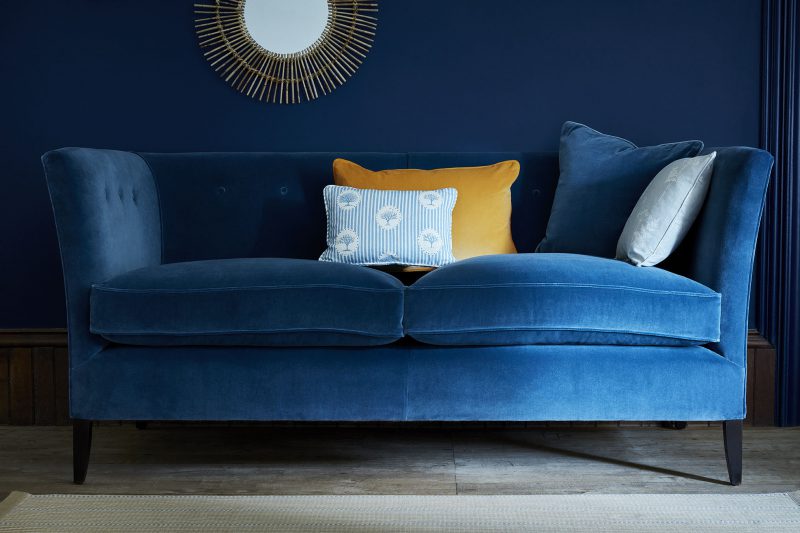 Cirencester: The depth of our smart Cirencester sofa enables you to curl up comfortably or even sleep the night on it…this could be your spare bed! Included in the price are four 20″ x 20″ self-piped scatter cushions, in the same fabric as your sofa.  Velvet – Tarn.
Chairs
We have an exclusive range of Armchairs with five shapes to choose from.
Left to right: Traditional Armchair. Deep, generous and super comfy to curl up on! Lapland Stripe – Cornflower, Terracotta, Damask / Sapperton Chair. Classically French and available with beautifully handcrafted turned legs. May Blossom – Pigeon, Charcoal.
Left to right: Tub Chair in Pretty Maids – Dusky Pink, Winter  / Chedworth Armchair Sophistication in a modern style. Plain Linen Union – Terracotta.
Footstools & Pouffes
Our footstools are elegant additions to any room. Great to use for resting your feet, as an extra seat or even instead of a coffee table, these have been all designed to work alongside our range of sofa and chair styles. For an extra special statement footstool, you can choose to have your piping and/or buttons in a contrasting Vanessa Arbuthnott fabric.
Left to right: Ashcroft. Classic, firm coffee table stool – perfect to rest a tray of hot drinks on. Flora & Fauna – Clay, Charcoal / Amberley. Our widest upholstered footstool, an elegant rectangular shape – great for filling a large floor. Velvet – Lake Blue.
Circular & Cube Footstools: Highly versatile, a great way to save on space and can adapt to pretty much any room setting. Three Circular Pouffe's, from left and all in Wild Fern – Lily Pink, Ochre and Moss. And a standout Cube Footstool in Sow & Scatter -Marigold.
It is not possible to talk about Jo without mentioning his invaluable contribution to the many photoshoots we produce for the inspirational photography you see on this blog, our website, and in our brochures. These shots really bring our pieces to life and are useful visual references to help you plan your interiors projects before you put your order in. With often only a few weeks' notice Taylors will make to order various pieces of furniture in new and old fabrics. So, thank you Jo and team.
For more detailed information on all our made to measure items including measurements, pricing and lead times, please visit our website. All you need to worry about is selecting your favourite Vanessa Arbuthnott fabrics, fillings, legs and whether to pipe or not to pipe!