Finding the Designer in you…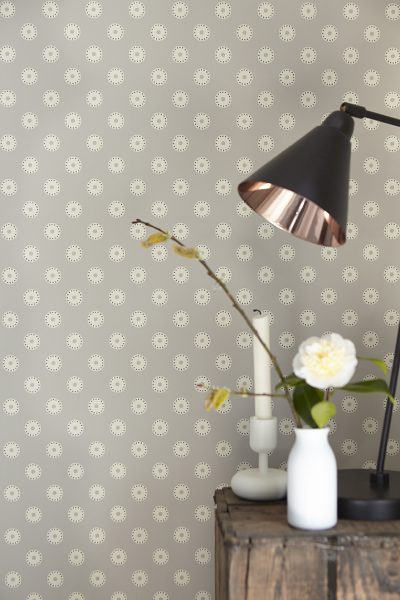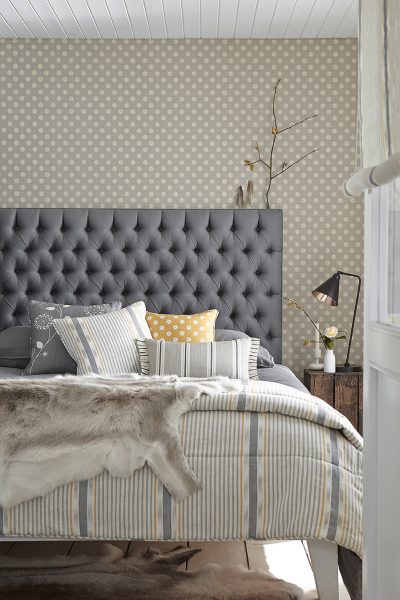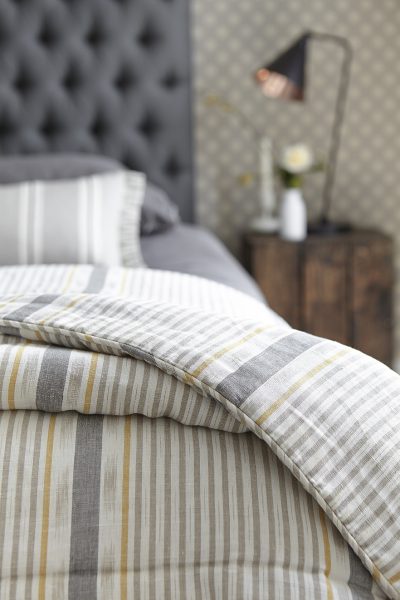 A room that I love: this Scandinavian bedroom with printed and woven fabrics, wall covering and a reindeer skin, all working together to create a stunning place to sleep.
DISCOVER YOUR STYLE
In my opinion there are no rights nor wrongs in interior design, everyone has the potential to design their own home, it's just a matter of getting your eye in…here are some tips:
How to find design inspiration to transform your interiors from tired to revitalised:
Gather inspirational images from magazines, Instagram, Pinterest etc. You will begin to see the look you would like to achieve.
Analyse the look: for me for instance, it was painted floor boards and painted window frames, with off-white walls all through the house to link the rooms one to the other. I also realised I loved the simplicity of one colour printed fabrics and also no brown beams for me…
COLOUR AND FABRICS
Start to hone in on the colours you want to use – three colours are always better than two: use these colours throughout the room: for the painted walls or wallpaper, furniture, blinds and curtains. The third colour could be a highlight for cushions, lampshades, bed quilts and accessories such as a tablecloth or even a painting or sculpture.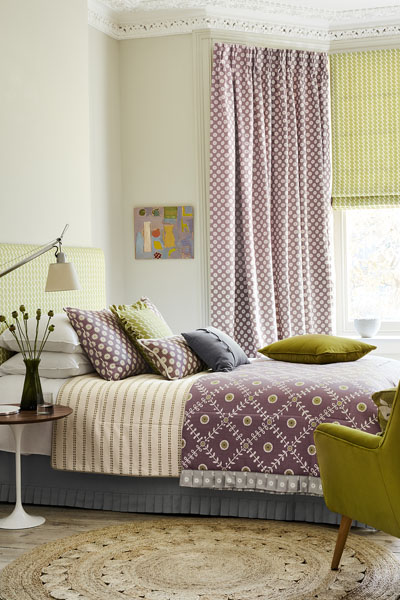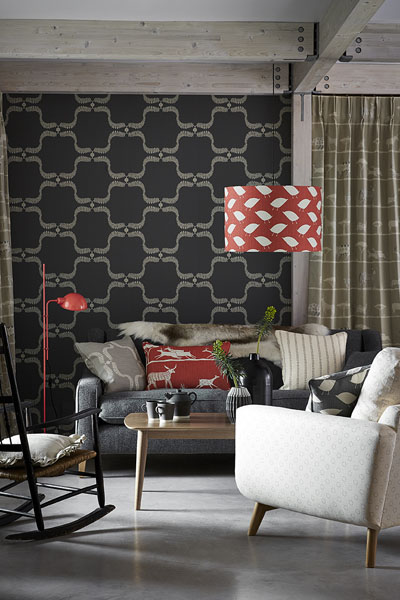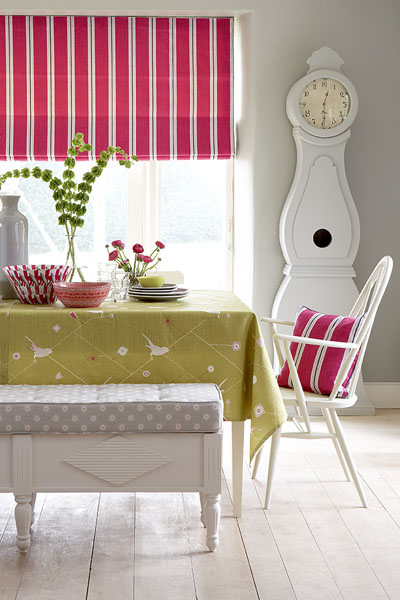 Left: Here we have The Orchard Collection with the main colours being Plum and Kale with a touch of Charcoal grey for the bed valance and a single cushion, which along with the natural flooring add depth to the room.
Middle: The dramatic wall covering in Up The Garden Path in Charcoal, and Limestone Wild and Free curtain are warmed up by touches of Tomato red, seen on the cushion and lampshade.
Right: A really striking impact. The vibrant Stockholm Stripe – Sweet Pea, and Dawn Chorus – Lime, Winter, are paired with a pretty soft grey on the walls, and the bench cushion in Pretty Maids – Dove, Winter.
Paint and Paper
Remember that colours can change depending on lighting so buy sample pots and paint at least A2 sized paint patches, on the lightest and the darkest walls in the same room, to see how the natural light affects the shade. Tape wallpaper samples to the walls and drape our large returnable samples over existing furniture or pin them to existing curtains and blinds. Stand back and see what you think.
Choosing Furniture
If you have a blank canvas it's easier in a way, but more often we have to work with existing sofas or rugs etc. Look closely at the rug and see if you can work with colours within it. Maybe you can reupholster the old favourite sofa to give it a new lease of life. Decide if you are someone who likes pattern or plain; traditional or contemporary; and look at a colour wheel or nature itself to see what colours go with what.  For instance, pinks and reds with greens, orange with duck egg, yellows with grey and blues.
MADE TO MEASURE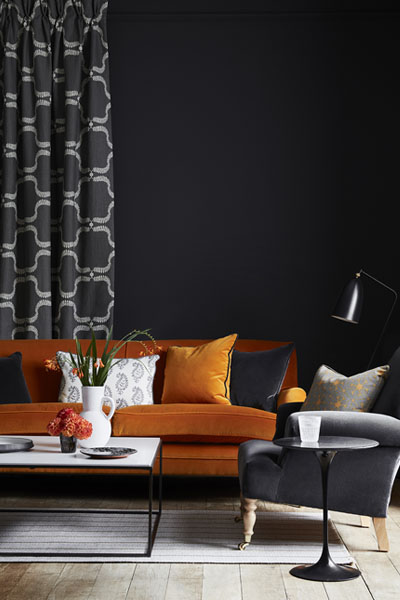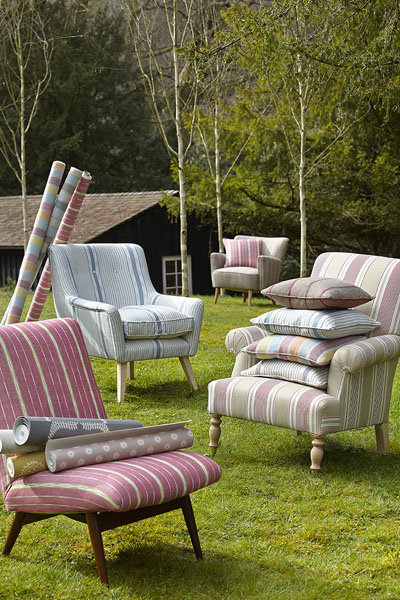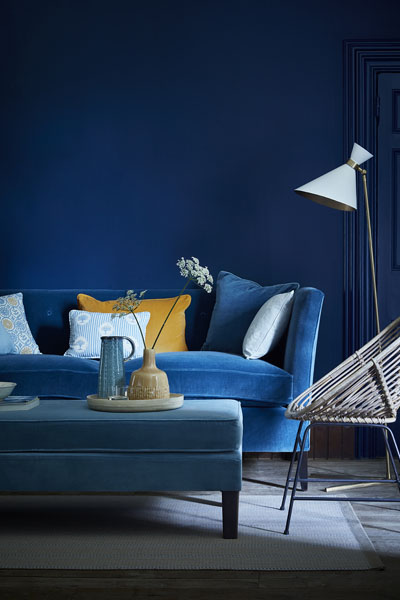 Left: Dramatic evening room, with dark walls and large, warm Velvet – Marigold Traditional Sofa. The cushion in Life & Eternity Detail – Charcoal, brings some welcome light int the sitting room.
Middle: Here are a selection of our armchairs, covered in woven and printed stripes, a great addition to any room. a great way too combine colours in a room.
Right: Here I have gone tonal and the walls, sofa and footstools are all shades of blue with a pop of yellow delivered by the Velvet cushion in Honey!
Decide on the furniture you want in your room. Think about scale, in a large room you need a big sofa and footstool. Most designers recommend that even small rooms should have one large statement piece, even if it is a headboard in a bedroom. A balance of large and small pieces will create an appealing living space.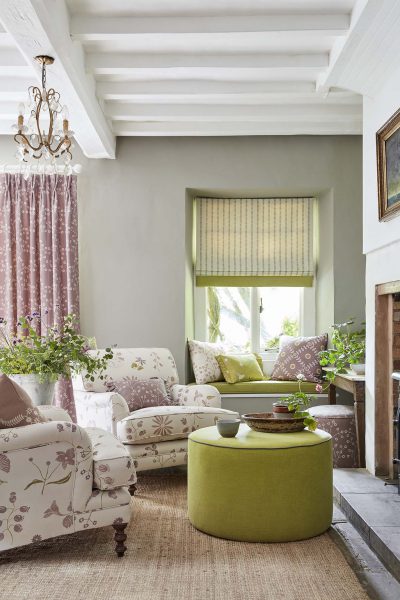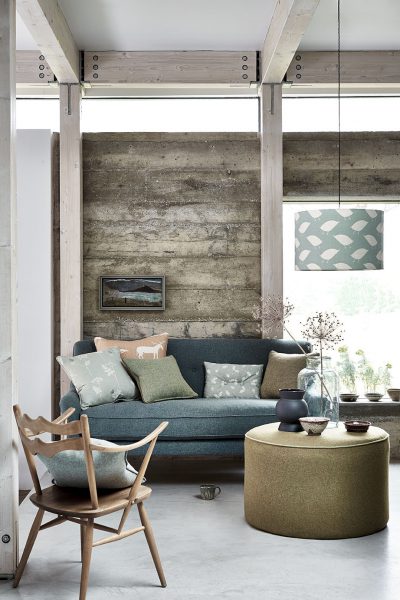 Left: Two luxurious Traditional Armchairs in Herbaceous Border Detail – Dusky Pink, Plum and Kale, which picks up the green in the large Circular Pouffe in Plain Linen Union – Kale.
Middle: In this sitting room the large Cirencester Sofa in May Blossom – Smoke, Light Peach, sits perfectly against the Amberley Footstool and Tub Chair.
Right: I have included this room because of the tonal colours on the walls and the sofa. Texture created by the Harris Tweed footstool, the mottled wall and the grey flooring. Even though it is a small room the large sofa makes if cosy.
CREATING A MOOD BOARD
Buy a large foam board and pins from your local art or stationary shop and collate samples, images and samples of the fabrics, wallpapers, furniture and flooring that you might want to use. This way you can see how they would all sit together. Within the room it is important to add textures through flooring, rugs and fabrics such as velvet and tweed. Place the mood board in the room and live with it for a while.
Once you have narrowed your choice right down and have a good idea of what you might want, order some returnable samples, which are half metres of fabric, and drape them over the back of chairs, pin them to existing curtains and blinds and see if you're still happy with them after a few days. This is also a great way to see how fabrics look against the paint colours.
MEASURING
Decision time…measure up your windows – we do have a relatively straight forward video and a guide to help you through this, but we also appreciate it is nice to speak to a person and will happily offer advice over the phone. If you need help to decide between blinds or curtains in particular rooms, or indeed how to measure, don't forget you can book a half-hour WhatsApp consultation with one of our design consultant, where you can show her your windows and rooms.
DELIVERY AND HANGING
As far a hanging curtains and blinds, this is straight forward and they all come with instructions. Once armed with a drill you should be able to put up the blind tracks and cleats, the screws, plugs and curtain hooks are all included.
FINISHING TOUCHES
The finishing touches are the fun bit. Lampshades, rugs, cushions, paintings and plants can all make a huge difference, but are sometimes hard to choose until you have the walls painted or papered and curtains hanging. Even the colours on the spines of books in a book shelf, a throw on the back of the sofa, or in a kitchen ceramics, tablecloths and tea towels, create opportunities for accents of colour.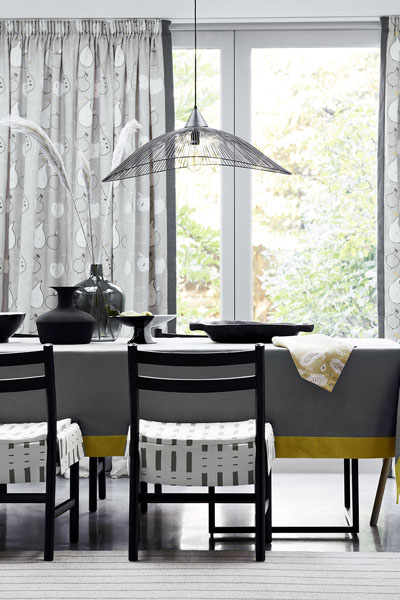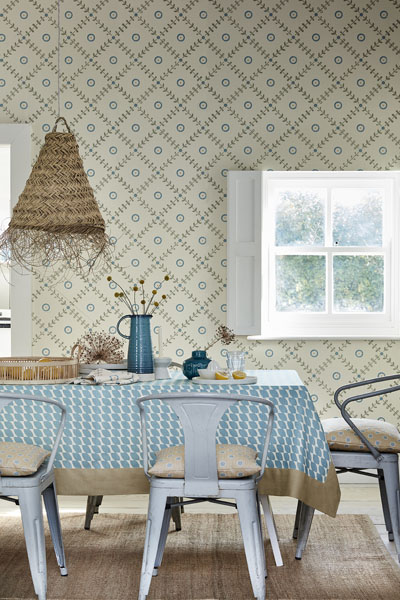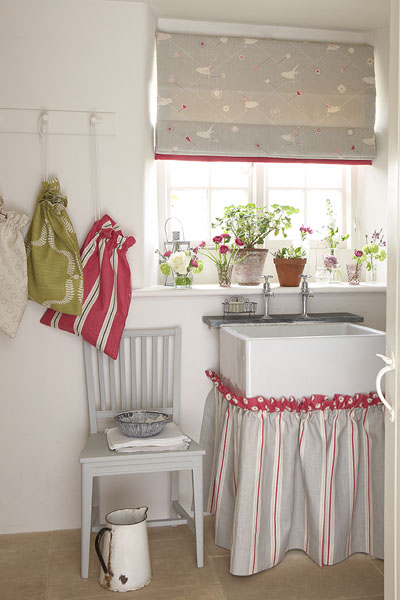 Left: In this dining room the yellow accent lifts and warms the grey scheme.
Middle: The natural matting, lampshade and edging on the tablecloth add the third colour to this room and also texture. I love this Fruit Garden wall covering…so Swedish!
Right: Green and pink always work well together as seen in the Stockholm Stripe – Sweet Pea, Winter, and the leafy geraniums. All working well to transform this modest cloakroom.